Despite having three separate invitations to fish freshwater today (Lake Anna Stripers with Dan Smullen, Smallmouth Bass with Alan Tharrington and Catfishing with my boss), I decided to go to the Elizabeth river (hot ditch) to see if I could catch one more citation before the end of the year. I launched around 10:30 and immediately started catching...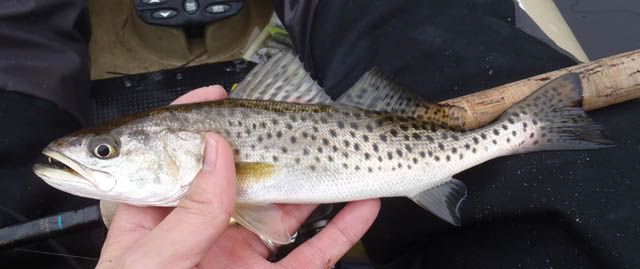 10"-16" spikes
And lots of them. The majority of the time I was throwing a 1/4 oz jighead n dark green body/chartreuse paddle tail. The action stayed steady for a little while and eventually pulled up two 20"ers.
Shortly there after Justin Mayer joined me and he got in on the action too.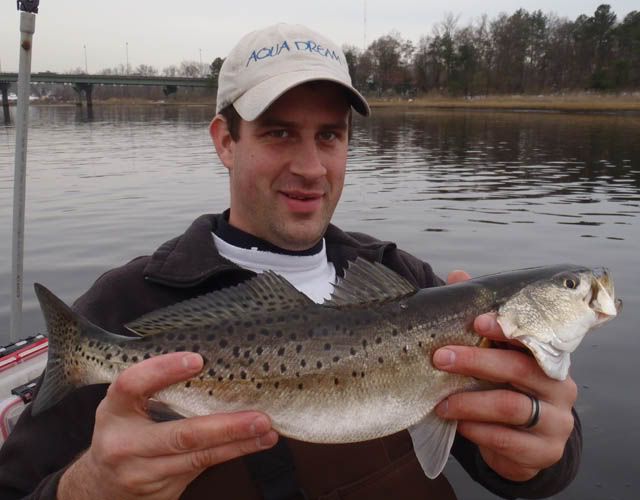 20"er
As the tide started to shift, we decided to try a different spot. I trolled over to "the cove" and found a minefield of bobbers. I paddled along the shoreline, courteously staying clear of the other boats and their live baits. I found a decent spot, tossed my soft plastic and immediately hooked up with another spike. Not what I wanted but better than nothing I thought. I busted out the trusty black and orange MirrOLure and worked it really slow. I had something hit it, but not hook up; which is hard to understand because they have three treble hooks on them. Anyway, I checked my watch and realized I was suppose to leave 15 minutes ago.
I casted my lure one last time, started cranking, and BAM! There it was! About 15 seconds into the fight my Mirrolure came flying out of the water and the side of the fish flashed and teased me through the brown-orange water. As expletives flew out of my mouth I knew I couldn't leave now. It looked like it could have measured in the lower 20's. I made several more casts and after about 10 minutes I started to get discouraged. I knew I'd be in deep doo-doo if I stayed much longer. So I casted one last time, again, let it sink to the bottom, slowly crank, and about halfway back to the yak it got crushed! The drag ripping from my 2lb test ultralight outfit seemed so loud in the quiet, windless air. I frantically repeated "Please stay on, please stay on, pleeeeeeeease stay on....". After a couple more nerve racking good drag runs, I finally landed what I came for.




24.25" Release Citation Speck
After a two hour ride, I came home to a pleasant wife who immediately put me on diaper duty and bath time. Afterwards, I got a message from Justin telling me about his great catch after I left.
Here is his report
.