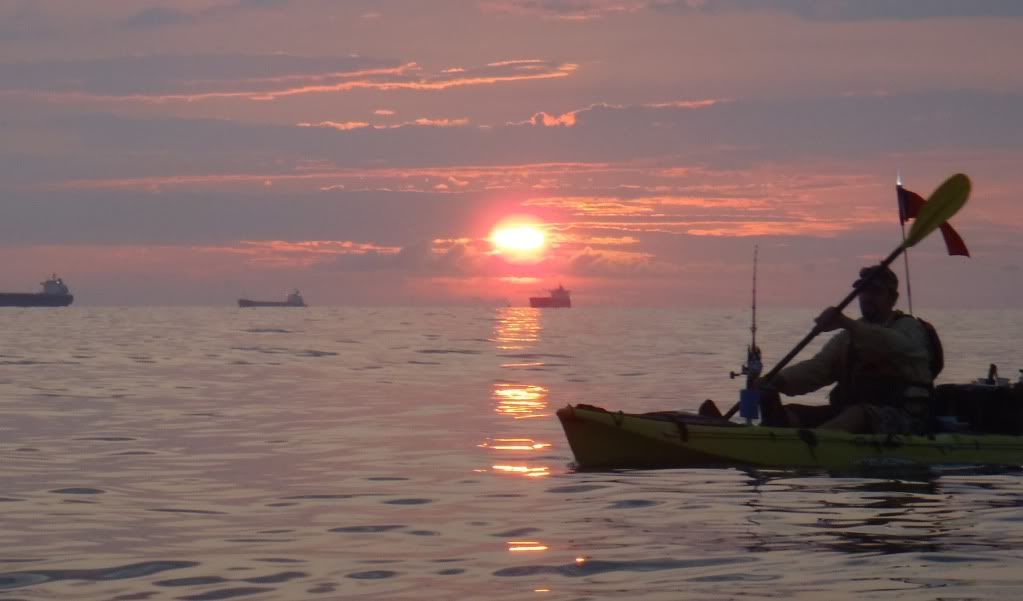 The TKAA team divided up into several groups to target different species. The
CBBT
group, consisting of
Justin Mayer
,
Billy Ragulsky
,
Seth Goodrich
and myself, met up around 5am, got things ready, set a good game plan, and launched to a gorgeous sunrise.
We stopped at several spots that usually produce quality fish, but either no one was home or no one wanted to come out and play. Well, at least no one we were actually looking for. The baby bluefish were everywhere, destroying any soft plastic we dangled off the kayak. Justin and I decided to move close toward the 1st island while Billy and Seth tried a little longer.
As the current slowed down we were sure the bite was going to turn on. Justin focused on the spades as I worked the fiddlers on the bottom. Sheepshead, triggerfish, and tautogs were all on the list of species for the tournament and all of them love fiddler crabs. Justin started off getting a few small spades, then the action shut off. I caught a bunch of trash fish, which I actually didn't mind for this trip. I'll explain later.
Justin and I were baffled. All through slack tide, we didn't catch anything we wanted to enter into the tourney. A little before, through slack, and a little after are the best times and we were at the spot that normally holds fish. Staying persistent, I eventually caught a couple of small togs, one of which was tagged.
I love learning where, when and how big the fish was when they tagged the fish.
I had my doubts about whether those two little togs would rank in the tourney, so I kept at it. I was also hoping for a good size trigger, since I hadn't caught one all year. But I failed to find any. After a while, I switched over to clams and enticed 2 spadefish around 12" to play along.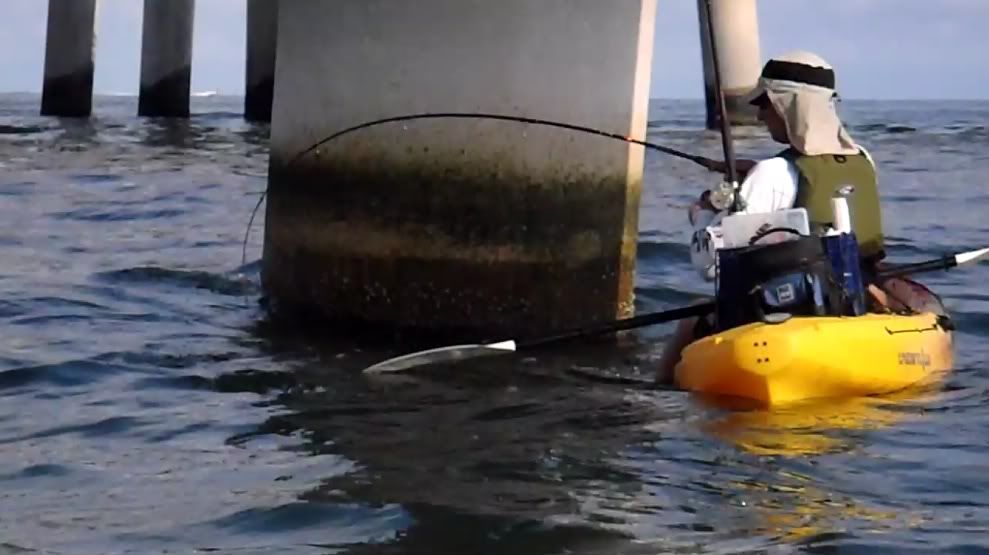 Frequent CBBT kayak angler Kyle (forgot the last name) hooked up to a nice spade
We also met Seadoo Dave out there for the first time. He seems like a good guy...
check out his site.

Hoping for that big sheepshead, I went back to using fiddlers. I tried a new area along the bridge and my hook started getting cleaned with a quickness. On the third drop over the same piling, I finally hooked up to a nice fish. After several line peeling bull dog runs, I brought it up to the surface...
... and twice it buried my rod tip deep into the water ...
... but in that tug of war, I was victorious.
It was the second 22.25" tautog for me this year. .75" shy of release citation.
Again.
Long story short, that fish ended up being the second place tog for the tournament and I was proud. Justin had one of his spadefish end up being 3rd place for that specie as well. There were many reputable angler clubs to enter teams in the tournament. And for us to be the only kayak team against a bay full of motor boats and placing 4th over all is a great achievement. If my understanding is correct, we were only one point behind 3rd place. The weigh-in was a great time with excellent food and camaraderie. I admit however, I left shortly after the food...
Remember how I said that I didn't mind catching trash fish earlier. Normally, I'd be pretty annoyed, but I was actually double dipping tournaments that day.
Pirates of Lynnhaven
held a week long trash fish tournament and it was the last day. The weigh-in was at 7pm. And even though I didn't think my fish were going to hold up, I left the first tournament awards early. My croaker, spot and oystertoad (3 of the 6 species included in the tournament) measured a mere 1/8" more (combined) than the next guy and I ended up winning. (Sorry Joe, I got lucky)
I won this cool trophy designed by
Fish DV8
and also a 16 hour deep drop trip with
Rudee Deep Sea Fishing
. On top of that, half of the money raised in entry fees gets donated to the charity of the winners choice. So
CCA of Virginia
should be getting a decent little check from The Pirates of Lynnhaven.
My wife was happy I helped out two great organizations and also excited I won a tournament.
But, she wasn't too keen with the idea of me going on a boat for 16 hours.
I told her it's really not much different from my usual fishing trips.
Just not on a kayak.