I took the old
Redfish12
out to see what was shakin' under the
HRBT
. After launching at 8:45pm I quickly found huge numbers of cutlass fish.
aka Ribbonfish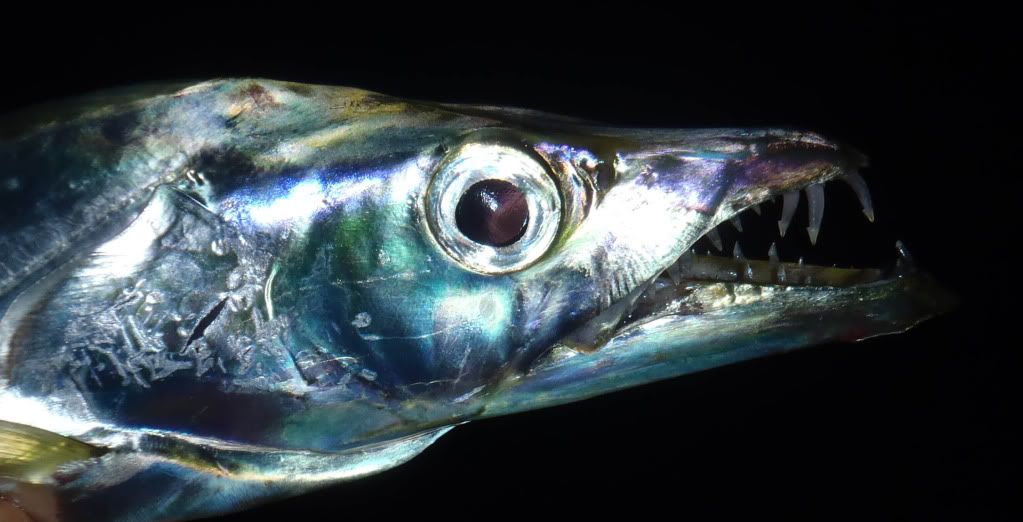 More chrome than your rims and a wicked grill to match. Check out the barbs on dem teefers!
Korean people love to eat this fish and swarm from as far away as Maryland (maybe farther) to catch them by the cooler full. But this
twinkie
(definitions 1,4,5&7 apply) doesn't have a taste for them. My mom would be pissed if she knew I threw them all back.
I also found a good number of these...
Weakfish aka Grey Trout
Nothing big, but big schools of little ones, which is good because their population was on the brink for a while in VA. Hopefully this is a good sign for the future.
Par for the course, I also had a few small croaker, bluefish, and some...
Wee little flounder
Also got to do a little battle with good ol' Morone Saxatilis
Most were in the 17"-19" range and very skittish.
All fish were caught on 3" chartreuse, white or dark green swimming mullet Gulp on 1/4 ounce dark green jigheads.
The smoke from the
dismal swamp fire
got pretty nasty so I called it quits around 1am.
Until next time...
Peace out homies.