Friday, my main focus was spades. I got out to the CBBT and I immediately started hookin up.
Only problem was...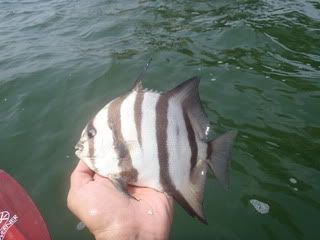 ...they were tiny.
The biggest was 10".
I also found some triggers.
It was crazy hot so I took a break when the current got too fast to fish and took a swim by the down current side of the island. Other than tiny black sea bass, I didn't catch anything else all day and of course... the paddle back was miserable. I had a nasty head wind and I had water crashing over my bow on every other wave. Salt sprayed in the mouth as I breathed through my teeth and the upstroke end of my paddle felt like a sail on every stroke. It sucked.
Sunday I went looking for sheeps and found a couple little guys.