I don't fish out of boats very often these days. I LOVE my kayak. However I was invited by my boss, Bob Shepherd so I accepted and fished with him this past weekend. For those of you who don't know, he's a badass. He owns several
IGFA
lineclass records and is a member of the
VAC
. He's the one that got me into that club as well. Anyway, he has a house on the Eastern Shore and knows some great flounder spots. So Saturday, bright and early, we ventured out on his 21' BayPro from his backyark dock in search of flatties.
Did I mention he's a badass? Cuz, the first drops down got us two keepers at 19.5" and 20". We rocked 2oz jigheads with 7" Gulp jerk shads and tore them up. We did have the occasional chesa"freak" bay oyster toad though. We kept 4 flounders in the livewell and culled them out as we kept upgrading. Before lunch, we had our limit (ranging from 20" to 25") and were on our way back to his house.
Afterwards, we packed some heavy gear, caught a bunch of baitfish (croaker) and went in search of the elusive VA Silver King. Not feeling very optimistic because of the recent NE wind we had, we still gave it a shot. The rays and sharks would not leave us alone though. I hooked my first spinner shark that gave me quite the work out and adrenaline rush. Them things are nuts! We guestimated it to be around 5 feet. The animal jumped 3-4 feet clear out of the water and truly put my tackle to the test. AMAZING! We weren't using steel leaders, so we didn't land very many of the sharks. And even though we didn't hook any tarpon (although my boss thought he saw two roll), I had a great time.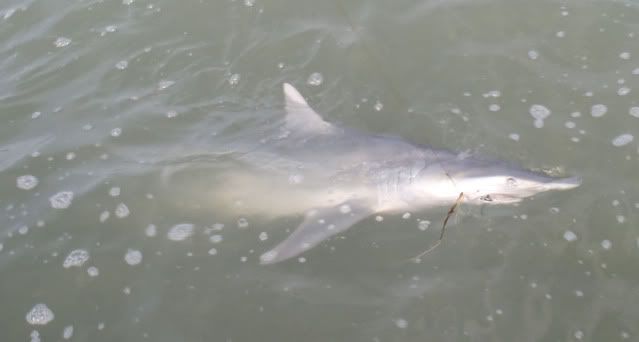 On Sunday, I thought I would return the favor and take him to where I was catching citation sheepshead. We trailered the boat across the CBBT and launched out of CrabCreek. The weather wasn't very conducive to fishing close to pilings, but we gave it a shot anyway. It was kind of weird playing the "guide" for my boss who has so much more experience than me. Anyway, I got him on 3 citations.