So my wife says.
I just can't get enough.
I wanted to go to the HRBT lightline Friday night, but the wind was a bit too much. So I decided to try the James river for Richmond stripers. After 3 hours and only this dink.....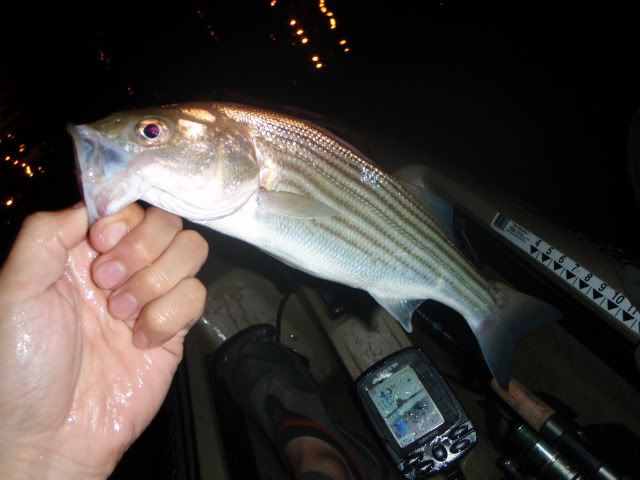 I called it quits and just as I was getting back to the launch, an old friend called (the kind of friend that you know you shouldn't go drinking with any more because it always leads to trouble). So I met him at the usual watering hole, along with Mr. Jager, Ms. Sauza and Sir Jameson.
Woke up with the usual regrets and did the mother's day weekend. My mom's still in Korea, but made the wife pretty happy.
Monday comes around, checked the weather report, and it sounded reasonable. I got the kitchen pass, but didn't tell her where I was planning on going (HRBT). She got around to asking before I left and I told her. Despite the wifes plea for sanity, I had to go for it. Drove down from Richmond at 6pm. Launched at 7:30. Met NAVYIDC for a bit and started lookin' for the fish. First came the croaker. LOTS of croaker. They wouldn't have been so annoying if they were bigger. Then came the flounder. Probably around 5 or 6. Dropped 3 right at the yak, one of which might have when 17 or 18". All pretty small. Then, finally, I found the stripers in the lightline. They weren't reacting the same to my presentation as they were last tuesday, so I had to keep switching to find what they wanted. By the time I figured it out, the current was slowing down. I managed 7. 18",19",19", 20.5" 22", 23.25"and a 26.25". The blues were pretty damn annoying too. I didn't keep track of how many, but it was a lot; the biggest being 20". Got back home at 4:45. Slept for a bit, up with the baby at 7, then off to work.
Worth it.