Kids are expensive. And like most, mine has a perpetual appetite. So when I noticed the freezer had some vacancies, it was the perfect excuse to bust out the waders and catch me some fish.
Not that I really needed an excuse. (insert smiley face)
So I got off of work around 6:00, made dinner for my wife and kid, did bathtime, diaper change, PJs, the whole nine yards. Drove down to the
Willoughby boat ramp
and met up with a few TKAA members. John, Kim and Matt were waiting for me, ready to go. We launched at 9:00 to nice calm waters towards the HRBT. It was almost slack high tide when we got to the bridge and I immediately hooked up to a nice 21.5" blue eyed flounder.
We also met up with several familiar faces out there. Striper season brings out all the "crazy yakers". I think I counted 9 of us, including
Mark Lozier
and
William Ragulsky
We messed around with the flounder until the current picked up. I had a dozen or so dinks up to 17.5" while waiting for the main event. It took us a little while to find the stripers. But once the current really started picking up, we found them. I enjoyed working a redhead, yellow body yozuri crystal minnow and kept two 24"ers. Various soft plastics worked as well including a new one I got from
Marshworks
. The big paddle tail definitely has great action.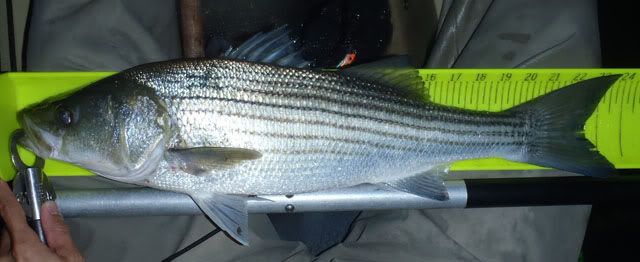 At 1:30 the wind was getting pretty nasty and the paddle back to the ramp was rather unpleasant. But knowing that I accomplished my mission made it a little easier.
Matt also had his limit with the biggest going 27".
Nice job Matt! For someone new to saltwater fishing and never having been to the HRBT, I was happy to have helped him get on some fish. Feel good bonus for me!
He did pick it up rather quickly so I'm sure we'll be seeing more of him.
On a side note, we got checked by "the man", the po-po, the fuzz, 5-0, whatever you want to call them. They said they appreciated us having a white light on the pole, but they also wanted us to have some sort of white light that we can point at people to get their attention (headlamp). A friend of mine was asked to get off the water because his lamp was low on batteries, so be sure to check your batteries before you get on the water. To be honest, I was glad to see the marine police out there. Especially around striper season. I see people keeping illegal fish and guys speeding up and down the bridge in their motorboats all the time. Also, to all my fellow yakers, remember to stay proactive about knowing your surroundings. Striper season gets pretty crazy out there so my head is always on a swivel, checking for boats. I even carry a mini air horn in my PFD because some of those motorboaters just don't pay attention.
Stay safe and have fun. Cuz like they say,
It's on, like donkey kong!