Last Thursday night I went to see if the stripers were lining up along the lightline of the HRBT. It was a little windy but not enough to keep me away. I jigged a gulp first and found a 18.5" flounder.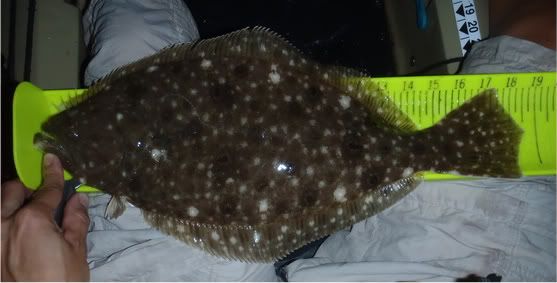 Then I had several of these...
...which are actually pretty darn strong when they get this size. Pulling drag, they definitely earn the name "silver drum".
I became distracted from my striper mission in the hopes of finding a 20" croaker for a release citation. But that was not to be. After about an hour of constant action with nothing over 17", I decided to resume the quest for stripers. Most lights had 3 or 4 rockfish under them, but I had a feeling I'd find one with a good number. So after a thorough investigation of each light, I found the mother load. They were stacked up so thick, some were even trying to line up in the shadow of the light pole. Shoulder to shoulder there must have been over 50 of them.... and they were aggressive. Most were around 20" but every once in a while I'd find one a little bigger.

With the super fast current and wind going in the same direction, I had to call it quits around 3:30.
The next day, found a couple of these.
Then came the TKAA tourney, which was awesome.
A week went by and on Saturday I got to squeak out for a bit while my parents watched my daughter. I dropped fiddlers in the hopes of finding togs or sheeps. After missing a few solid hits I started getting frustrated. The wind was tough, the current was getting fast and I was running out of time. I promised to bring back pizza for the family so knowing I had to go soon, I dropped one last fiddler. The bite that followed was very different. I set the hook and immediately the line shot horizontally. I knew instantly that it wasn't a sheep or tog. For how heavy it was, I brought it up to the surface quickly, but before I could identify it, it realized what was happening and with a powerful swing of it's tail, I got a face full of water. As my drag did it's thing, my smile grew bigger along with my curiosity about the specie I was fighting. I was hoping for a big red, but I was not unhappy it was...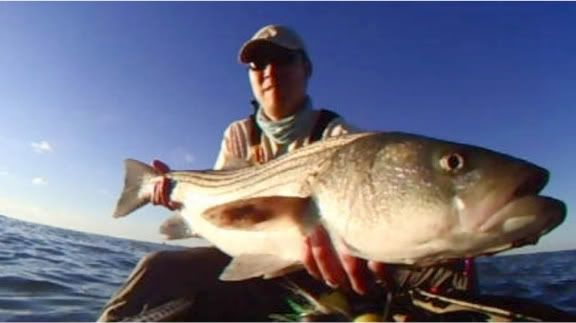 33" Striper
After pizza, I decided to try out the lightline, but the wind was pretty nasty. I saw a few, hooked one, got wrapped around a piling, and with the wind pushing me the wrong way I couldn't maneuver fast enough. I broke the tip of my rod and I'm still pissed.
But it looks like the striper season should be good. Remember to follow the
regs!