Itching with anticipation, Friday night couldn't come soon enough. At 10:30pm, HRBT was the first stop where I met up with Justin. I paddled out, keeping my eyes peeled for the welcome sight of a striper silhouette. I was paddling over a small one when a voice greeted me out of the darkness... "dude, there's a big one right in front of you". I thought, what a nice way to greet a fishing buddy, as I caught a glimpse of the massive shape slowly sinking then fading. We guestimated it to be in the upper 30" range and it was the only big one we saw. Fish were scattered here and there and not wanting to commit. They would follow the lure to the boat then take off. I started twitching the lure once I got their attention and then they would strike. Unfortuantely, I had several poor hook sets and the fish would get off. It wasn't too long before the current stopped and I only landed one at 25" while Justin landed several. We were off the water by 1am.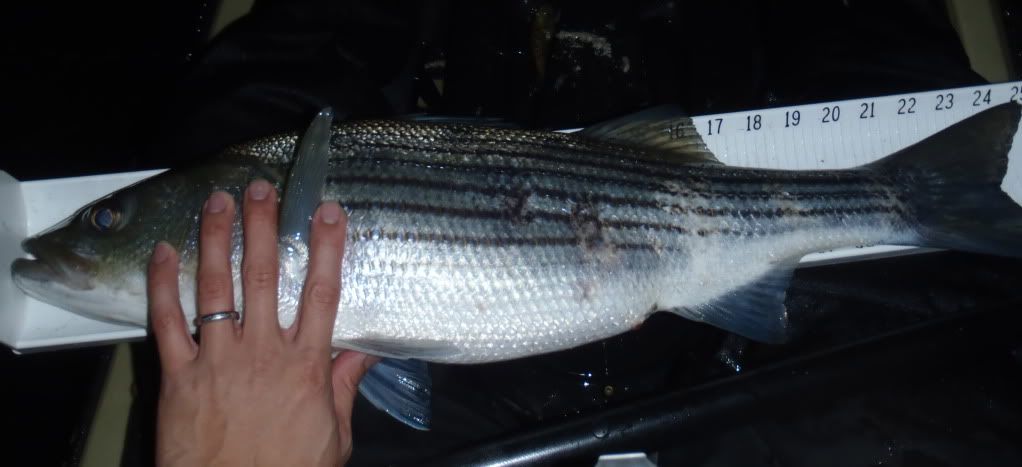 It wasn't the greatest night, but after an agonizing 31 days of kayak fishing deprivation, it felt great to finally get back in the saddle.
I found myself at the Elizabeth river by 7am looking for big speckled trout. I tried everything from topwater, soft plastics, to various MirrOlures, slow to fast and everything in-between, from deep drop offs to shallow flats, the infamous party cove area and a few oyster bars with little luck. I managed one 20"er and called it the first kayak fishing trip of the year.