Last weekend, I guided a friend to his personal best blue catfish. This weekend, I decided to play a little role reversal and called local legend, Forrest Short.
Chain Pickerel remained unchecked on the proverbial list and Forrest's invitation to try his spots stood too long. The impending cold front, 12 hours away, added a sense of urgency but also a touch of optimism.
I usually do well shortly before a strong cold snap, so I had reason to be excited. New dad, Justin Mayer and I followed Forrest to the lake he grew up fishing on, with high hopes. But unfortunately, after four hours, even with signs of promise, we were facing the dreaded skunk. Shortly before Justin had to get back to his newly acquired parental responsibilities, Forrest found a massive school of 6"-10" crappie in less than two feet of water.
Our attempts at getting them to bite were futile and we ended up snagging a few as our lures grazed their backs.
We got off the water and after Forrest shared some great fishing stories about that lake, Justin took off. Phase two was implemented and I found myself following Forrest to another lake in Yorktown. Within a few minutes of launching, he was showing me how it was done.
I absorbed the knowledge he was generously sharing and it didn't take me long before I got into an altercation with an aggressive pickerel of my own.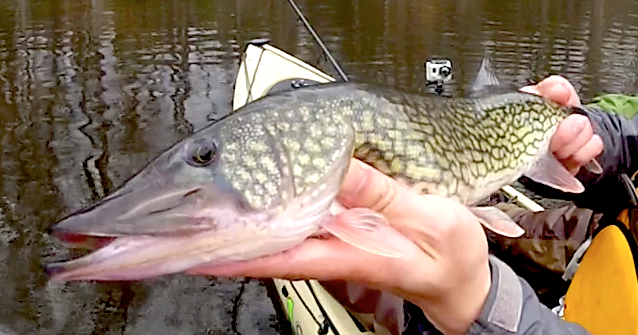 Giddy after my chain pickerel devirginization, I adamantly expressed my sincerest gratitude, appreciation and admiration toward my guide. I always enjoy locating fish on my own, but it was still very sweet to catch a new specie with the help of a friend. Thank you again, Forrest.
Over the next 4.5 hours, we worked our crankbaits in 4-8 feet of stained water and continued to have ourselves an excellent time. Well over 20 fish were landed between us with several largemouth bass in the mix.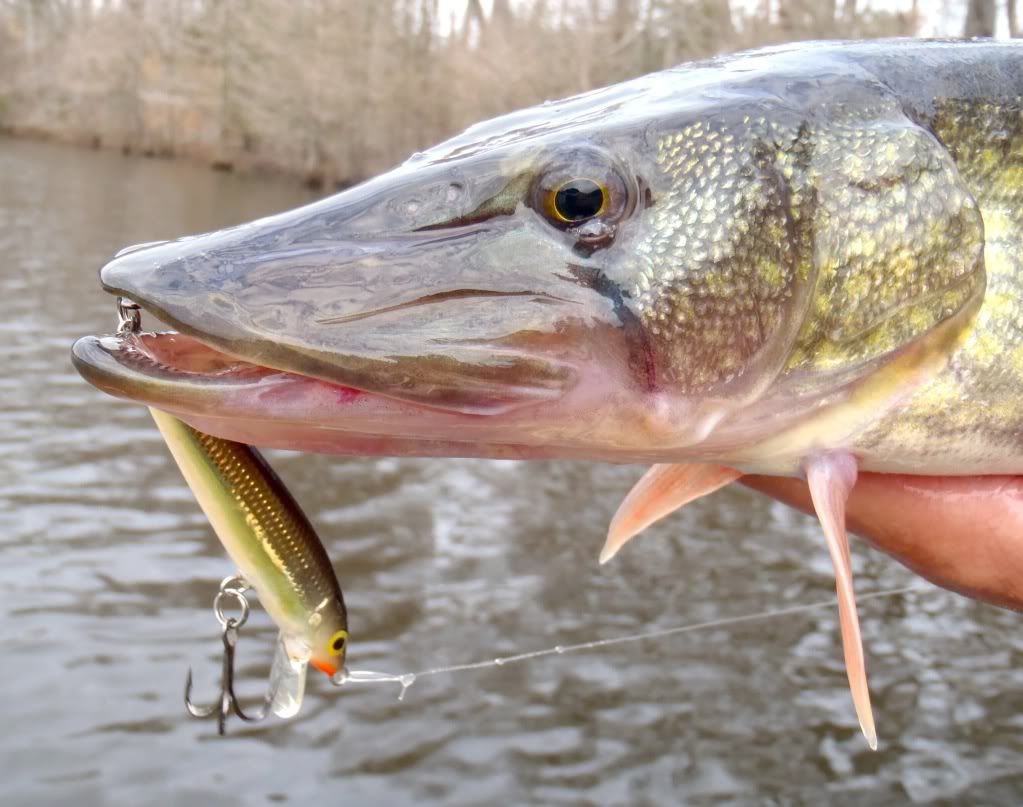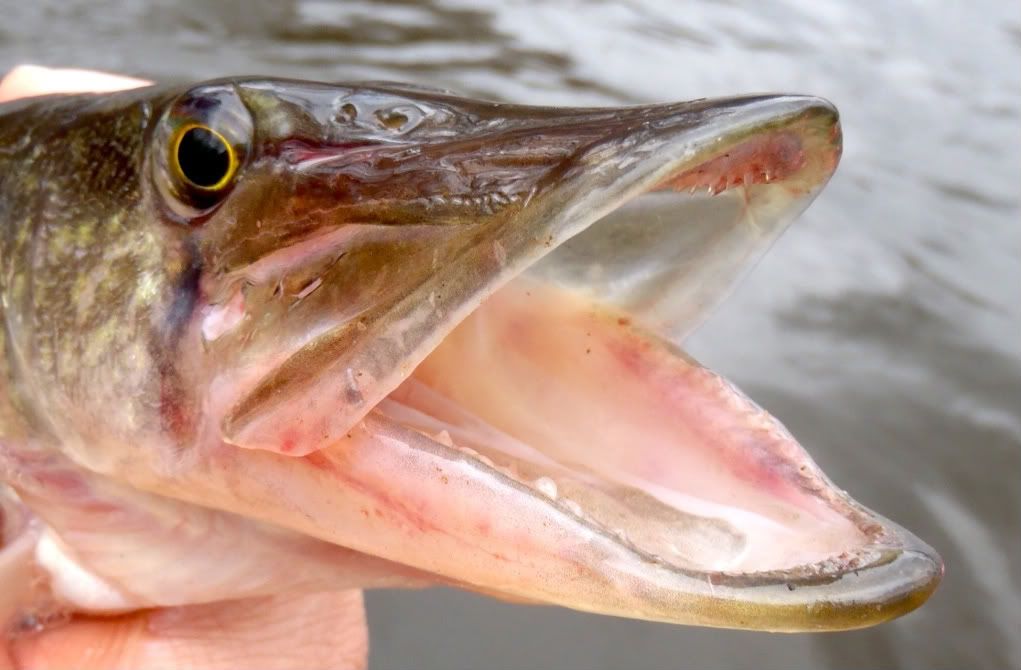 One of the highlights for the day included a chubby 21" bucketmouth that went a hair over 6.5lbs on my VAC certified scales. It ties a personal best I set over 7 years ago.
The other highlight was a feisty, acrobatic, and very pretty 23" chain pickerel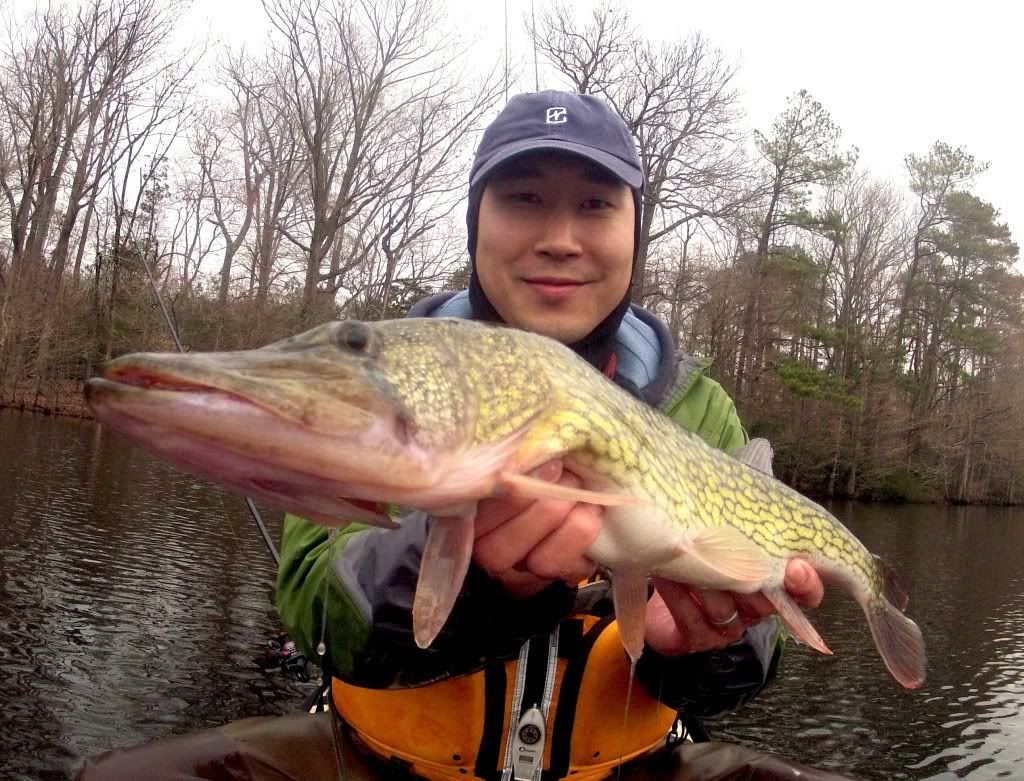 I also met fellow
Hook1 prostaffer, Marty Mood
and a relative newcomer to the area from Wisconsin, Richie Bekolay. They were off to a late start but quickly got into the fish. Richie also had a really nice 21.25" bucket (
pictures on his blog
).
I stuck around a little later than Forrest, but just before I thought about leaving, I got a call. Apparently the cold front was closer than we thought. Forrest called to make sure we were on our way in because "it was lookin' like armageddon". As I was hanging up, it started raining. Then the wind machine went to full blast. Within a couple minutes of paddling, we were being pelted by frozen rain, and a few minutes after that our kayaks had a layer of snow on them. Luckily we weren't too far from where we launched. I tried to get footage and photos of the madness, but moisture on the lenses made the shots unrecognizable. As we begged our fingers to finish strapping the kayaks, big fat snowflakes caked our cars. Then thunder clapped just above our heads. All three of us looked at each other, then laughed in disbelief. It quickly went from nice light winds to full on thunder snowstorm insanity.
I got to fish with an angler who I have great respect for... I tried two new places... I tied a personal best bucketmouth that was just an inch short of citation... not only did I catch the new species I was after but lots of them... and one of those was just an inch shy of citation too... and at the end, I actually enjoyed what felt like a joke from mother nature...
it was as if she was saying...