After waiting out a storm, and launching over an hour later than expected, the first thing I saw was a cobia thrashing on some bait. I quickly grabbed the bucktail rod that I specifically brought just in case that scenario presented itself, but by the time I turned back around it was gone. After searching a while, I switched to dropping mole crabs.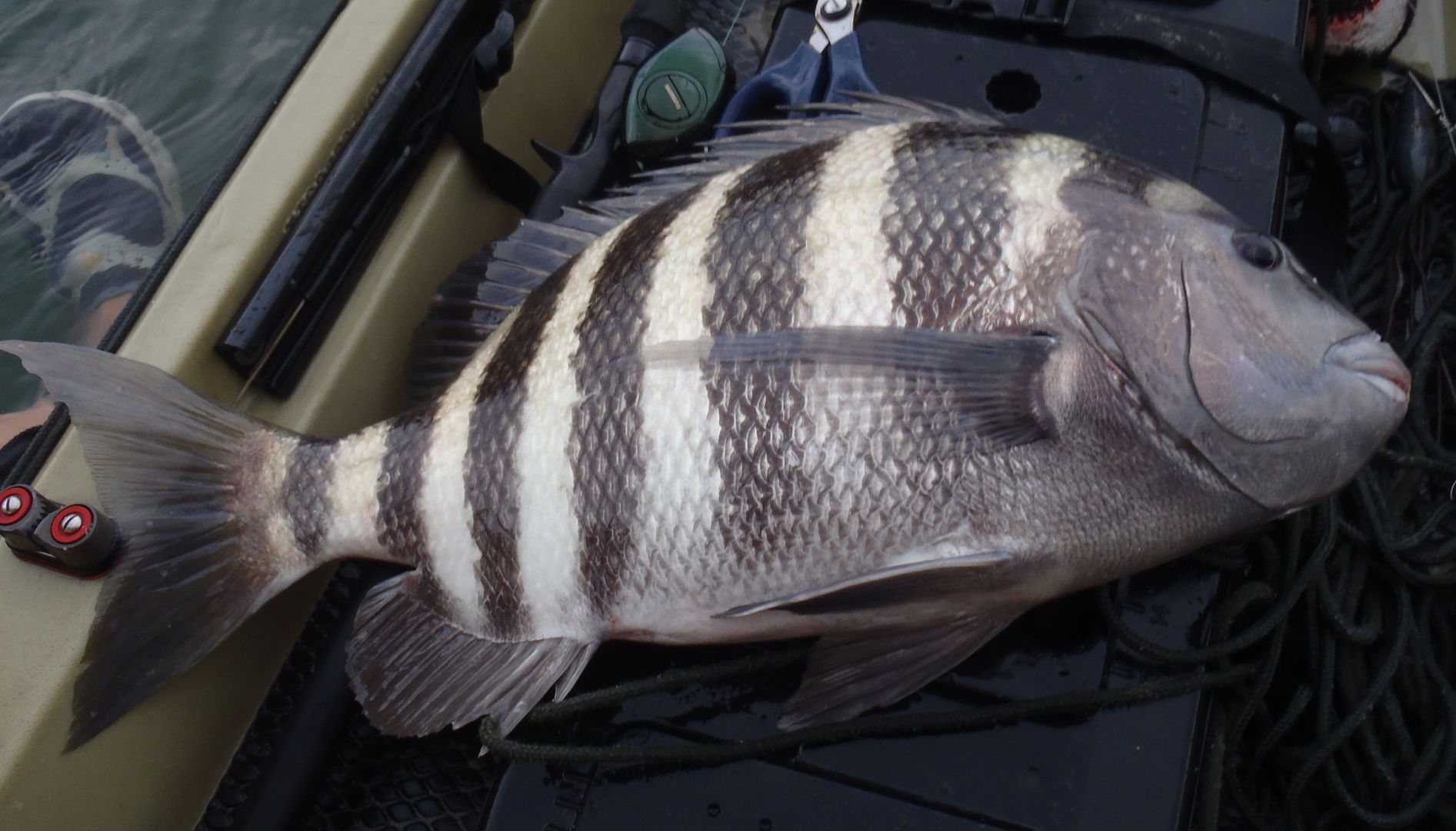 First up, a nice hard fighting 22" sheepshead.
Next, a not-so-good looking schoolie striper.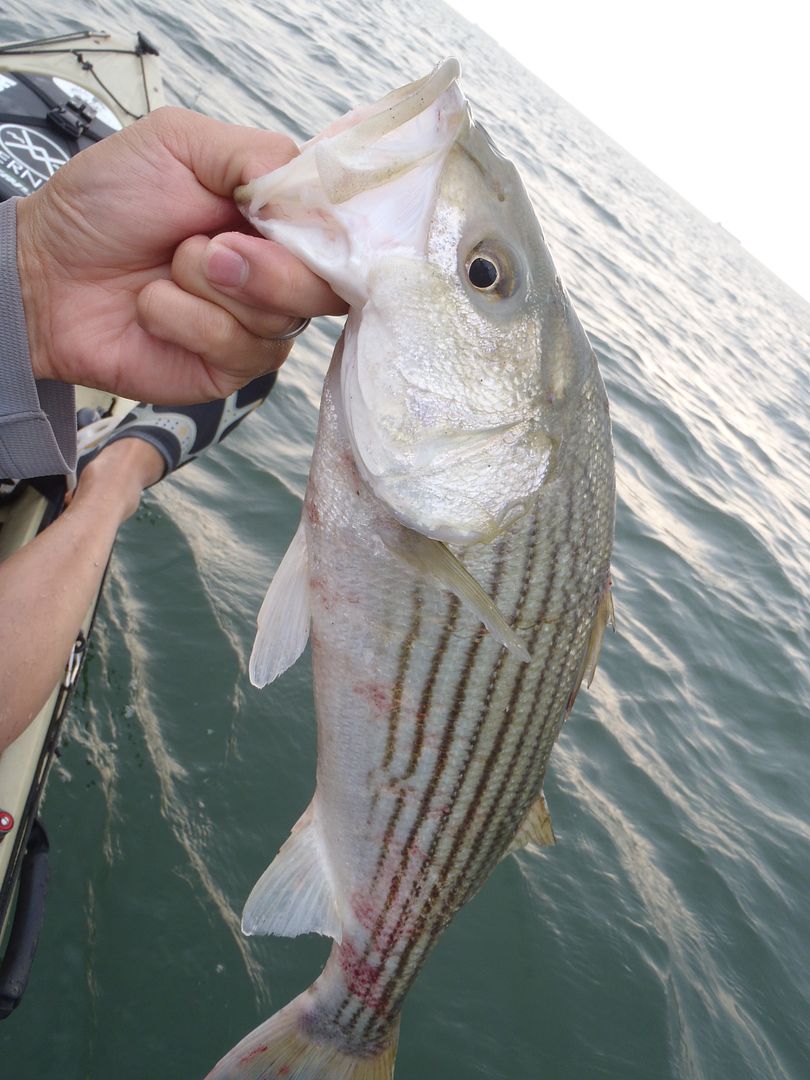 Then, after a few croakers, I switched over to clams and tried for spades. I didn't see any or get any bites at the usual spot and the current was brutal, so I took refuge on the down current side of the island. It was a good opportunity to look for big black drum that sometimes hang out in the rocks near the surface, but that was also fruitless. Next, I turned my efforts towards triggerfish and quickly hooked up to a bunch of baby black sea bass. Normally, I'd be pretty irritated but after remembering that they were on the list, I got to tagging. Eventually, I got a slightly different kind of hit and slowly reeled in to find a triggerfish chasing the empty jig head. I rebaited and caught the aggressive little guy. Sorry no pic. He was only 11". Tagged and released.
I kept at it and after a while, noticed an itty bitty little thing just under the surface... something I've never seen before.
After doing some homework, I'm pretty sure it's a juvenile Banded Rudderfish. It stayed under my kayak for quite some time, darting out every once in a while.
I love finding new species!
After eating a snack while watching my little buddy peek out from under me, I switched back to mole crabs and brought up something I've never caught before.
Bergall aka Cunner
Like tautog, it's a member of the wrasse family.
I braved the current again to try jigging for flounder, but only became frustrated. The water was just too fast. After losing a few 2oz jigs and not getting any bites, I went back to the island. Eventually the current slowed down, but only for a little while. The incoming was also predicted to be very fast, so my window of opportunity was short. I went back to find the spades. They were little, but at least I got some.
Even the little ones put a bend in the rod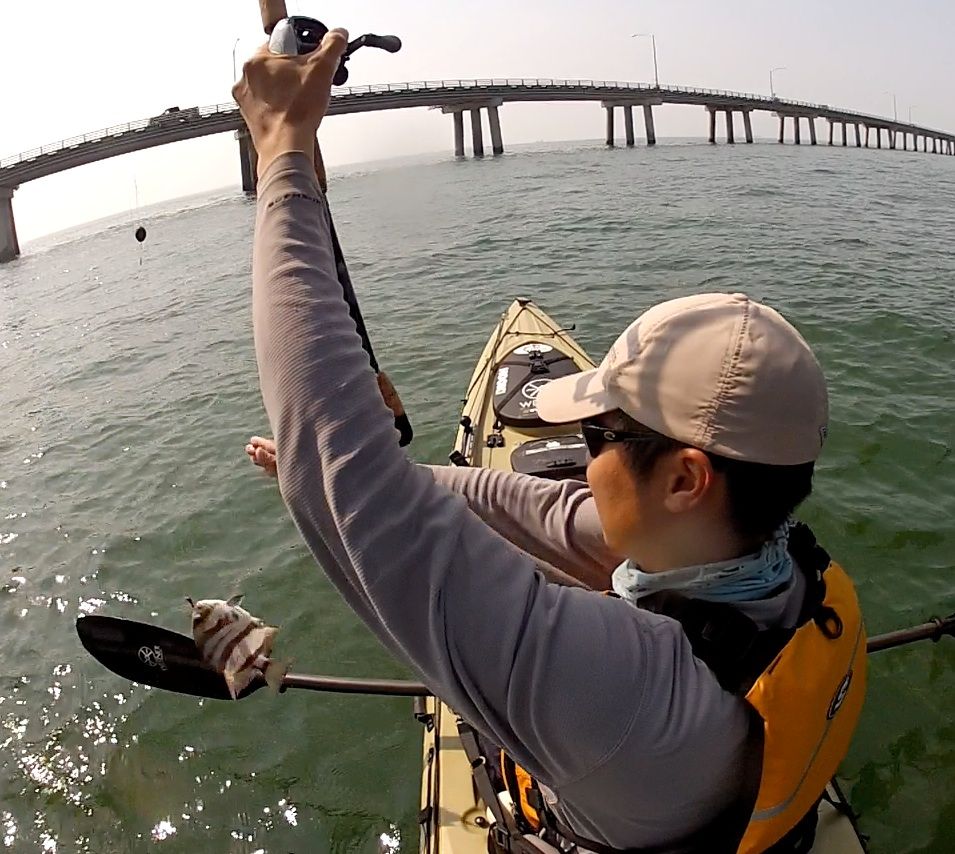 Wee lil' 8" spade
One right after another
Like predicted, the slack current didn't last long. And after tagging several of the baby spades, and getting a serious work out from all the one arm paddling, I had to call it a day.
The paddle back seemed to take forever... giving me a chance to think about the tough but interesting day.