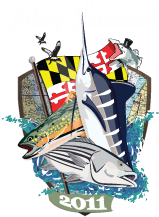 The last time I went out fishing I caught a striper with a
Diamond Jim tag
in it. I've called several times and left a few messages. I'm starting to get the feeling that their office is closed for the winter. Anyway, my fingers are still crossed. I'll post up about it when I hear back from them.

For those of you that emailed me in anticipation of my upcoming post on how to rig a new Ocean Kayak Trident 13, I'm sorry I haven't been able to post that yet. I've been busy acquiring the right parts and I've also been out of town for work (thus the lack of fishing reports as well). If you're looking for a good fishing report check out
this post from Justin
. I can't wait to get back out on the water!
Lastly, I've been listening every Friday to a podcast called Stuck On Fishing. The interviewer, Chris Story, has had renown fishing personalities
JetSki Brian
,
Don Lancaster
, and
Kayak Kevin
on the show so far and it's been very interesting to listen to. Well he called me up and asked if he could interview me as well. I was kind of surprised that he would consider me interview worthy and to think that I would join the list of those I mentioned before was very humbling. So I met up with him at the Bass Pro Shop in Hampton, found a semi-quiet corner in the massive store, which happened to be on a big boat on display, and talked about fishing.
Here's the link to his page. Check it out!