Much to my surprise, I have recently received several inquiries about how I like the Ocean Kayak Trident 13 and more than a few emails about how I was going to rig my new kayak. I wanted to take a moment to express my gratitude all my readers and for those that had kind words to say about my posts either through replies, emails or in person, I genuinely appreciate it.
Thank you.
The new kayak is different, but good. I like the openness of the Redfish12 cockpit, but the storage options on the Trident are much better. The OK Trident is definitely faster. But harder to turn. There are pros and cons about every kayak. I'll leave it at that for now.
As far as rigging a kayak goes, I think it's a very personal thing. There are some people who are minimalists and do very little to their kayaks and there are some people who can't wait to drill another hole in their plastic. For me going from one style of kayak to a very different style took some getting used to. Over the years, I created a system of storing things in my Redfish and I didn't even have to look behind me to know where certain things were going to be. You may have different preferences so take this as just my two cents. I think some of the things I'm about to go over will evolve in time, too. But for now this is what I did.
I also put two flush mount
Scotty bases
back next to the crate. I can put my VisiCarbon light pole in one if I don't want to take a space up in my rod holder. And of course, I can put a Scotty rod holder in one, too (ie: flyrod holder). In addition to that, if I want to film something I can put my camera-mount-on-a-pole in the rod holder as well. I made sure to put plenty of
Goop
around the drilled holes before I riveted these Scotty flush mount bases in. Also, make sure to get the flush mounts that are sealed at the bottom so it's not a big hole for water to get in.
Scotty
in so I'm covered for now.
Next came the anchor trolley. With tips from someone very familiar with Ocean Kayaks, this installation was fairly simple. I put my deck loops close to the ends of the kayak and found small stainless steel carabiners to take the place of a pulley. Since I have a rudder I split the anchor trolley system in to two parts; front anchoring on my port side and rear anchoring on my starboard side. I made sure to put the end points in a place to make it easy to slide the rope back and forth and not have to reach too far forward or back. I also put little hooks to keep the rope out of the way when not in use. I installed cam cleats to hold the anchor rope. I had
clam cleats
on my other yak, but sometimes the rope would slip out. I was told by a reliable source that cam cleats were the way to go. They held the rope well, but also easy to take out too.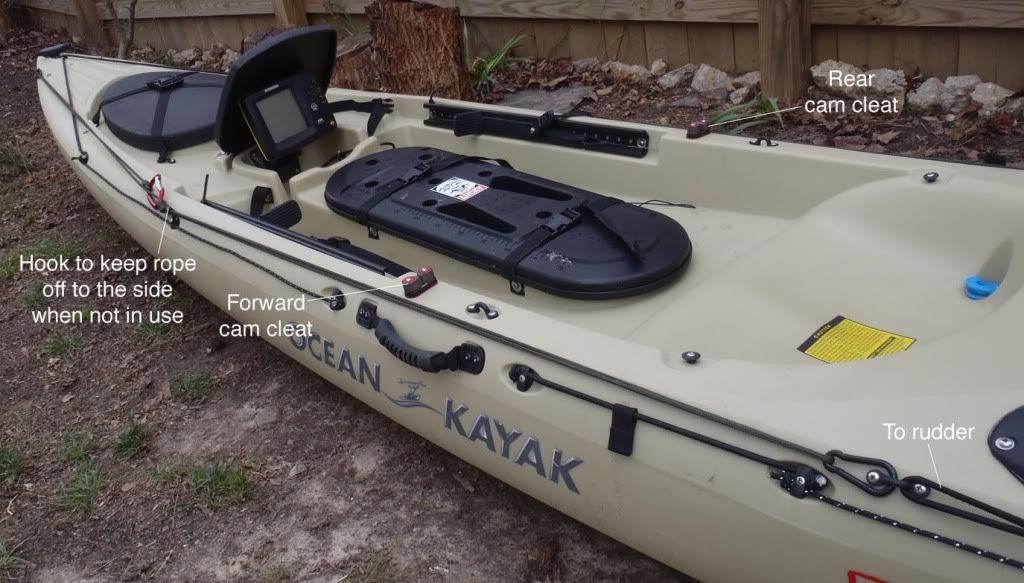 Pretty sweet.
Humminbird 560
. Like I said, nothing fancy, but still big enough to read from a distance. It came with the
normal transducer
that most people will mount to the inside of their hull, but I wanted to take advantage of the Trident's transducer compatible scupper feature. So I called up Humminbird and they gave me a return number, asked me to ship them the transducer that came with the unit and in return they would send me the right one for free. So I paid for shipping, sent it off, and 8 days later I got the new
Plastic Thru Hull Transducer
. I passed it though the scupper, bolted it down, drilled a hole on the back wall of the sonar space just big enough to send the wires through, and installed the unit.
zip tie mounts
to keep the wires where I want them. Stainless steel bolts,
rubber backed stainless steel washers
, and
lock nuts
were implemented in securing the main unit. I then sealed the hole from the inside with copious amounts of
Goop
.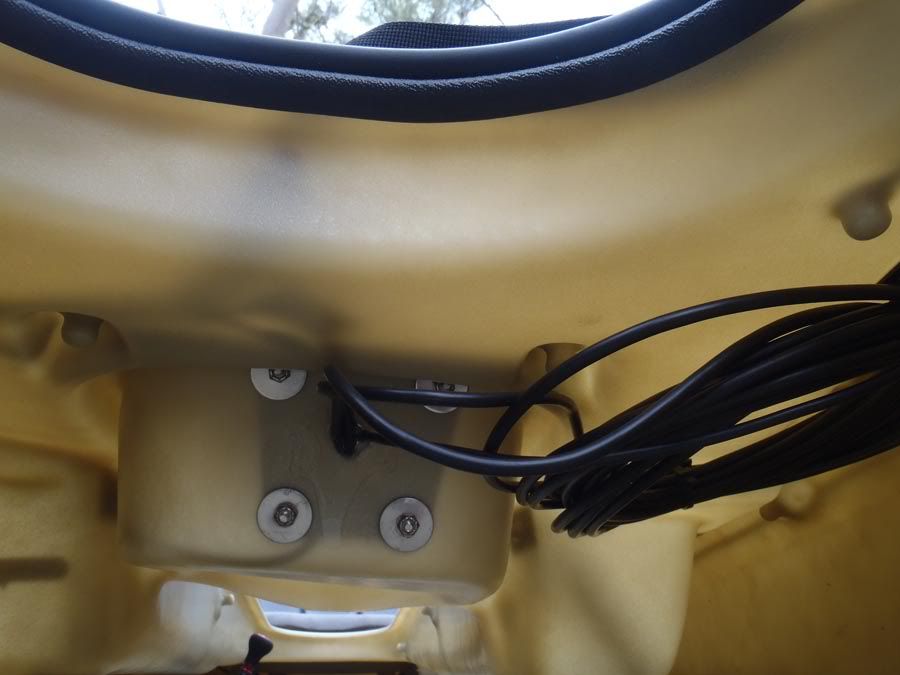 Sterilite air tight/water tight containers
that would fit my battery just right. Only thing is, it was only available in a big set with a bunch of other sizes. But I figured for $19.97 (compared to $30 for one OtterBox) I could use the other ones for
Gulp!
containers. Anyone who has had a leaky Gulp container knows, the words stinky and foul just don't cut it; especially in the heat of summer, in a small hatch back like I drive. Barf. Also, the containers work great for dry storage (ie: extra batteries, wallet, keys, phone, etc.). And for me it was time to replace the old containers in the kitchen that I got with sandwich meat. Anyway, I digress, back to the battery box... I drilled a hole, passed the wire, sealed it with Goop, wired a fuse, hooked up the female wire attachments, put the top on, slid it in the Trident's suspending battery bag and shizam, there you have it.
I also put strips of adhesive backed velcro in the rod pod
so I can keep my rods in place and not tumbling around.
I used velcro strips to keep my extra paddle together and wedged it in between the side hull and the scupper hole.
And finally I used adhesive backed vecro to keep my dry box in place off to the side, in the hull,
not taking up top side space.