Fishing in the VA tidewater area is really heating up. Reports of speckled trout are pouring in from all over with various MirrOlures and jighead n soft plastics getting the job done. I wasn't able to get in on the trout action, but I did find a few other species.
I got out to the
HRBT
around 1am on Sunday morning and met
Justin Mayer
and Ash Bishop. The water had just started moving with the incoming tide and the stripers were lined up thick. As the current picked up so did their appetite. My preference for the night was a 3" swimshad in natural bunker pattern, but almost anything would have done the trick. I lost count after 20 or so with the biggest going 24". Justin and Ash both had ridiculous numbers as well with their biggest going around 26"ish. I got off the water around 4:15am and drove over to Oceans East 2 tackle shop.
After blinking my eyes a couple times, I got out of the car around 6am as
Kevin
was getting into work and he hooked me up with a nice mess of fiddler crabs. I launched at the base of the
CBBT
to a sunrise that filled me with optimism. However, the paddle to the first island kicked my butt as the cross currents pushed hard and the head wind gusted over 15kts... but it was worth it. Just like the recent speck bite, the tog bite was on fire. There were times where I couldn't even get my reel engaged before my fiddler was getting destroyed. Most of them were in the 15"-17" range.
Over all I must of caught over 30 or so togs. No that's not an exaggeration. I admit, some of those were under 15", but several were over 17" with the biggest going about 20". Each additional inch brings a whole 'nother level of fun (insert "that's what she said" joke). One of them ended up thrashing so hard as I was measuring it that I lost my hawg trough (the normal measuring device I use to take photos).
I had an occasional oyster toad or baby black sea bass, but the majority of the bites were definitely from togs. A few other boats were having good luck using cut blue crab as well. If you've been wanting to try for togs, or if you're just bored of messing with spike trout, and you're willing to deal with the paddle out, now is a great time. A 16" tog will put up a surprisingly good fight for it's size and a 19-20" will definitely test your tackle. I had two break me off around a piling and one pull me into bottom structure, but I ended up getting it out, minus my sinker.
As my fiddler supply dwindled, I decided to try a different spot along the bridge that I never tried before. I wasn't expecting much and since I was already exhausted, I was thinking of leaving soon. But I felt a hard thump and when I set the hook I immediately knew it was a much heavier fish than I've had all day. It was an intense fight and I couldn't help but hope it was the citation (23") tog I've been after. But I wasn't upset when it turned out to be...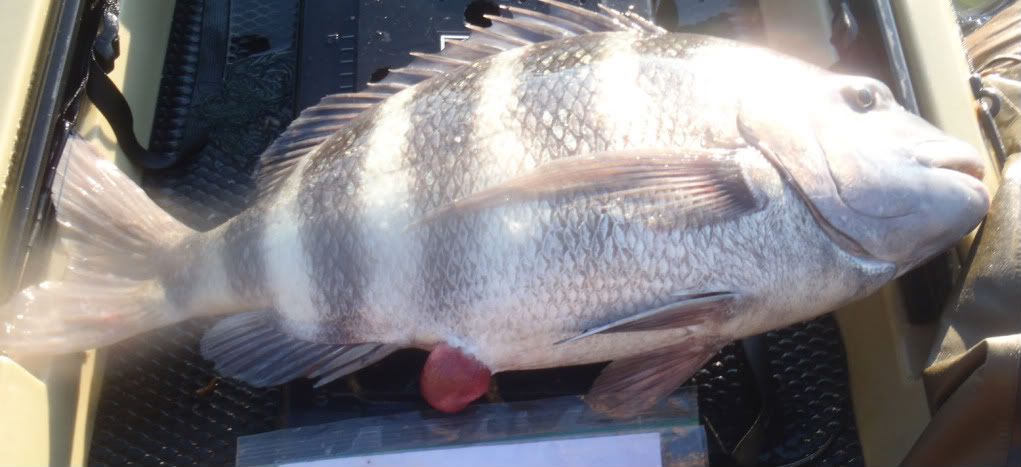 Release citation Sheepshead
Reference
The last thing left in my bait container was a big fiddler claw that had broken off, and I figured why not. I tried one piling over from where I caught the sheepshead and within a minute, I had another tough fighter on the line. This one fought harder than the last and each nerve punishing drag run had me praying that it stayed hooked... and my imagination kept making the potential tog bigger and bigger. But once again, I can't be upset...
Another release citation Sheepshead
I know it looks a lot like the other one, but I swear they're different.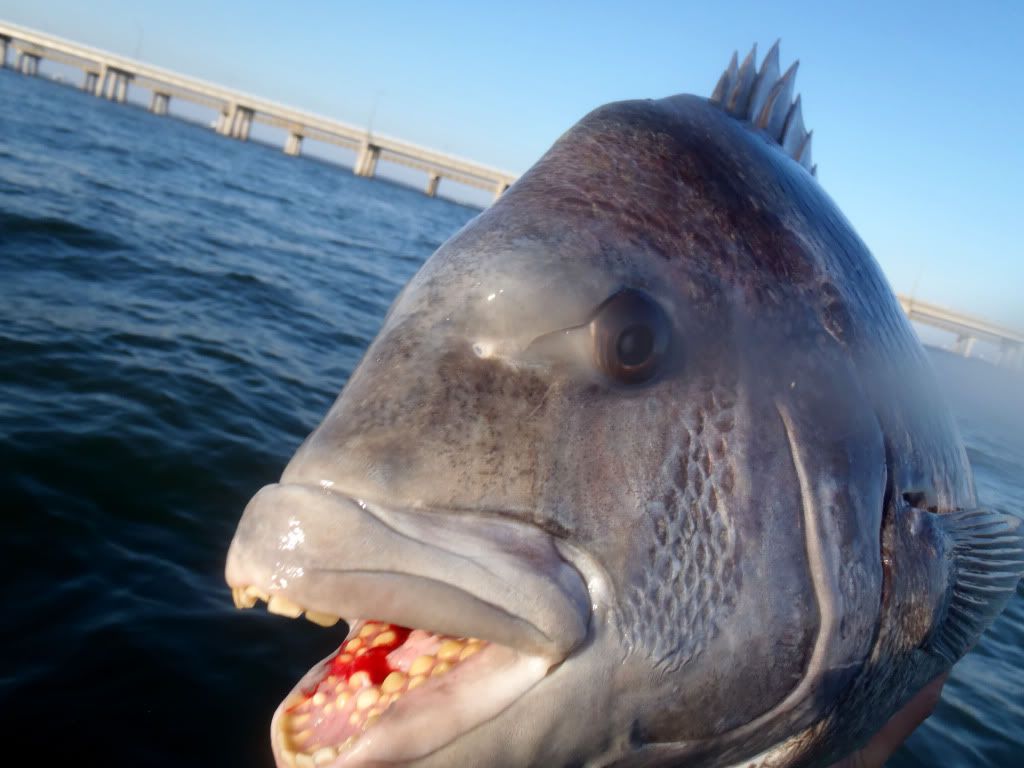 Mean looking thing
Long, but great day