5:50am. Hit snooze. Baby's awake. Ugghh...
As I rocked Miles back to sleep, I checked the wind forecast. Over night, it went from just-maybe-borderline-doable to hell-no-you-dun-lost-yo-mind. So I called Justin to call off the tautog trip to the CBBT first island and passed back out with a drooling baby on my chest.
As I made breakfast the brooding thoughts of big togs in the deep calmness crept into my mind, so I checked the wind again... with no reprieve. I played with my little stinker-dinker kiddos and their laughter shut the door on fishing, and I was good with that. My wife reiterated how I deserved to have some time to myself, and she was thinking about taking the kids to her mom's place anyway, so maybe I can do something else. I said I would think about it (and reminded her how lucky I was).
A few hours later, Justin came up with a brilliant idea that I couldn't resist and since my car was already loaded, it wasn't long before I was on the road. Justin had caught a tautog on the York River before, but always wanted to try again. I wanted an alternative place to go when it was blowing at the first island.
We got on the water and the NW wind was not a factor in that area. When we got to the structure, it didn't take me long to get a hook up...
19.5" Tog. Photo credit Justin Mayer
However, the action was not "hot" by any means. In fact we went long stretches with no hits. Eventually, just before we were about to move to another area, Justin hooks up to a nice one that jackhammers his rod into the water. He kept the beast from getting into the pilings and when it finally came up, it was a doozie.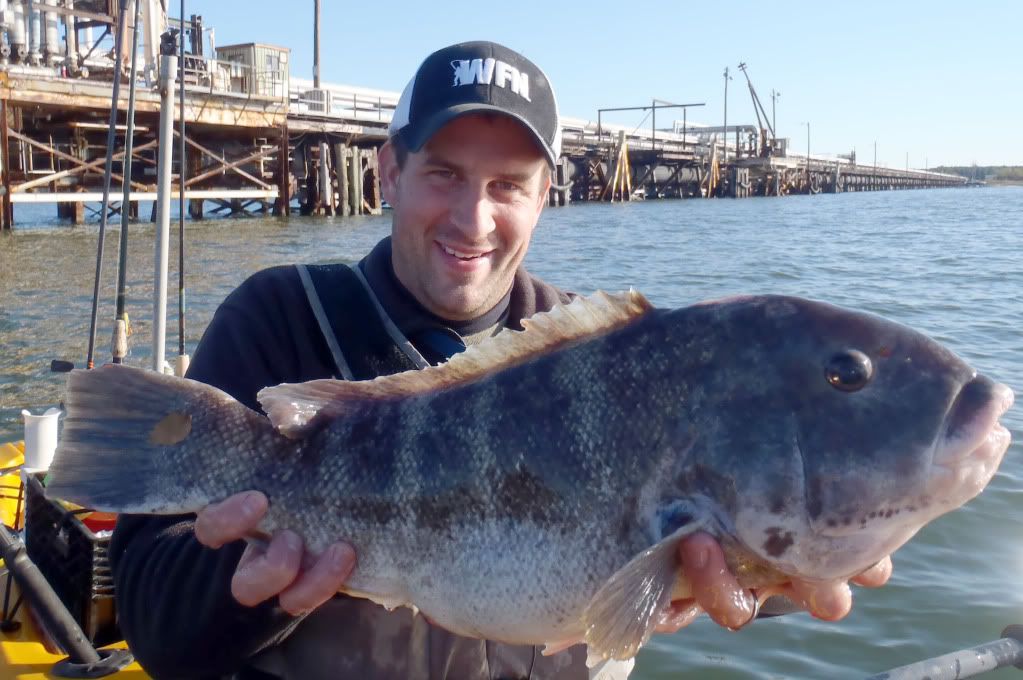 Justin's new personal best 22" Tautog
The rest of the afternoon all the way until sunset was very uneventful. We each had a couple of missed hits as we explored the new area and that was it. When it got dark we caught a bunch of stripers up to 23" under the lights then called it a day.