The forecast just looked too good. I took the day off, crossed my fingers in hopes that the forecast stayed good and made the trek to Virginia Beach. I paddled 3.5 miles along the
CBBT
and as I arrived at the 1st island, I was greeted by 7 other kayak fishermen who all had the same thing on their minds... beautiful Thursday morning... TOGS. It felt like I had just made a pilgrimage to the promised land to be with my people. It was awesome. The weather was perfect with minimal winds and warm sunshine.
Kayak toggin' enthusiasts of the day included
Kevin and Lee
along with their friends Jimmy and Rob, Jay Brooks and Tripp Seed of
VirginiaKayakFisherman.com
, and Kyle (I forgot your last name)'s dad. The action had slowed down since my last trip out to the island. It wasn't super hot, but we all still got some decent pullage.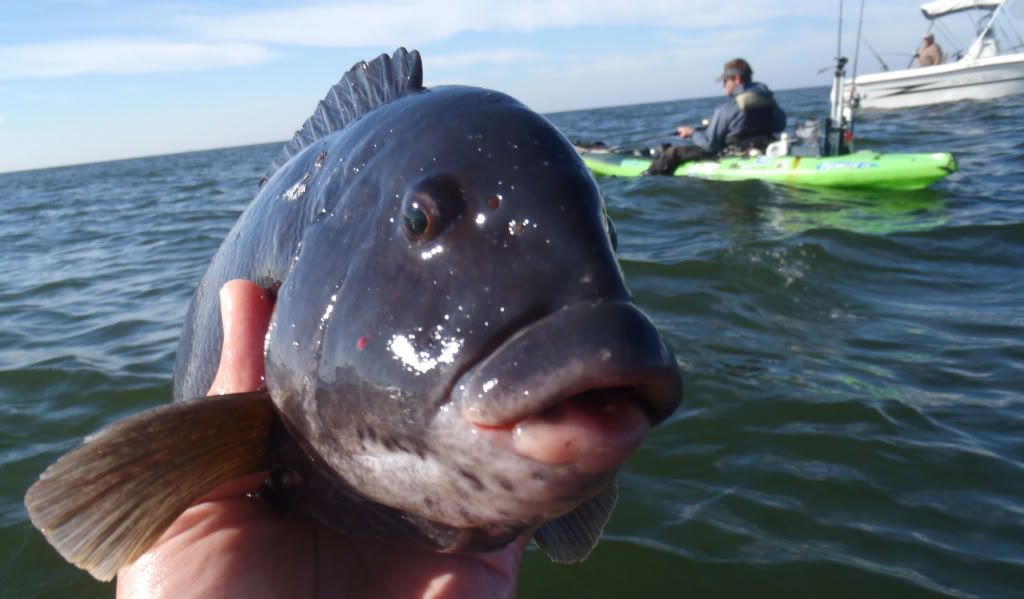 Working the rocks over the tunnel
Fiddler crabs did the trick for me in the morning. When I ran out, I switched to chunks of blue crab and they worked well too. I ended the day with around 15 or so tautog, 9 of which count for
Kayak Wars
. We had a few oystertoads and black sea bass too, which are par for the course. One of the 17" togs was obviously a repeat offender...
I did it a favor and pulled out the extra hook before releasing it. When I looked closer, I noticed it was the same size and style of hook I use (Owner cutting point 2/0 that have a specially designed tip which are easily recognizable). It made me wonder if it was one of the few I hooked and lost two weeks ago at the same spot.
I stuck around until sunset and started the trip back.
The wind picked up in the afternoon and seemed to get worse the later it got (of course) It made the return paddle a little tougher, but after the sun went down, using a 4" swimbait in natural bunker pattern, I had fun messing with the stripers. I caught 9 stripers around the first small boat channel (red and green lights).