S
ometimes
, my brother and I don't talk for a while. But when we finally do, we pick up right where we left off... joking around, talking sports, and generally reaffirming how awesome it is to be a Choi :)
But, one thing we haven't been on the same page about is fishing. So all year, I've been trying to get him out on the water. It finally happened on Black Friday.
He's paddled plenty before, so I took him to the CBBT and we made the long trip out to the first island. The current ran stronger than usual and made the fishing very difficult, but I got Charlie to pop his tog cherry.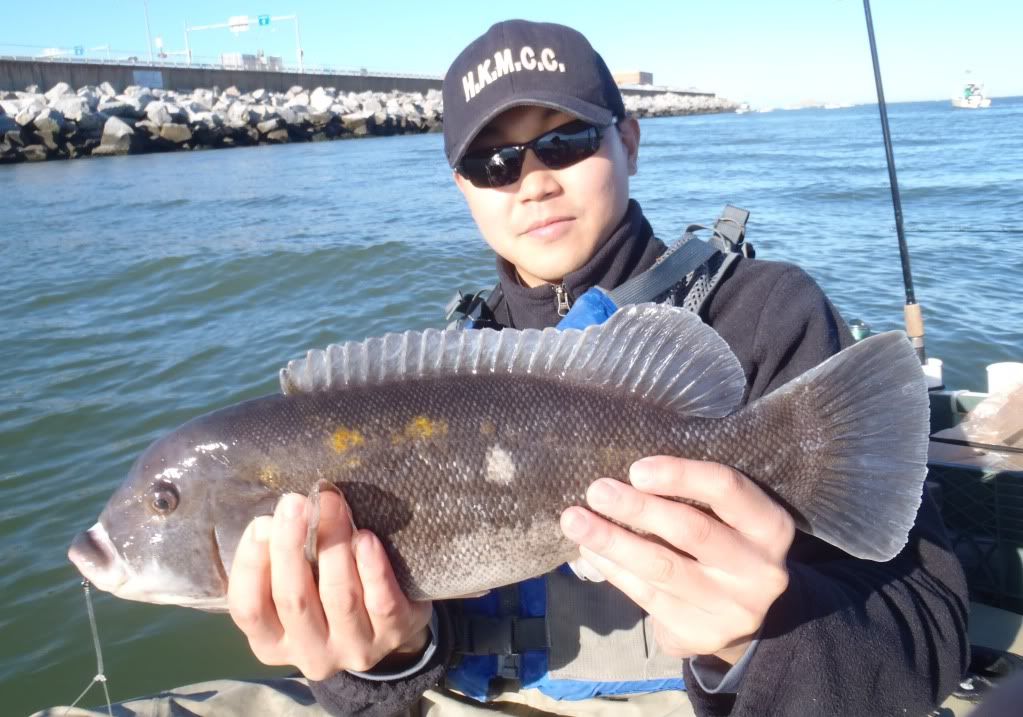 Lil' bro's 16.5"
I have to admit, it was pretty awesome watching him set the hook and do battle with his first tog. I tried to explain what a tog fight is like over Thanksgiving dinner, but there's nothing like experiencing it first hand. He caught two others and I had a few with the biggest going 18.5". We also got into a fair number of these...


Baby Black Drum
But the show was stolen by someone who recently got the tog addiction pretty bad. Jack Daughtry from Maryland understands why I love tautog fishing so much. Along with his buddy Josh Williams, they made the long trip several times in the last week and a half... and it paid off.
Jack Daughtry with a really nice 22"er.
I also went out on the 19th as well and got into a decent number. A lot of them were between 13 and 14" with a few going 19"+. Billy Ragulsky had the hot rod of that day with several nice ones and the biggest going 21".
Did I mention that the boys from Maryland have the tog addiction? Because they were out there on the 22nd also. And did I mention that their time on the water paid off? Because, holy crap, it really paid off. Jack Daughtry pulled in the coveted citation tautog.
24.5" and 10lbs.
Those of you who read this blog with any regularity know that I've been after that fish for a long time and put in a lot of time while searching for it. Yes, I am insanely jealous. Jack, I hate you. Ok, I'm kidding. No, actually, I'm not. I hate you. But seriously, congrats man. That is one helluva tog, and I look forward to fishing with you again, you bastard.
I hope everyone had a good Thanksgiving. Here's little video of a lightline striper caught on my daughter's Disney Princess Rod. I'll have to work on the lighting for the next one.