Between the family and I being sick, a tough work schedule, and nasty weather, I haven't been able to get on the water for over three weeks. I've even been invited twice by local kayak angling legend Ric Burnley, so you can imagine my frustration when I called him back saying it just wasn't going to happen... twice. Lucky for me, and a lot of others in the area with cabin fever, the Richmond Fishing Expo was this weekend.
So Natalie and I ventured out to the state fairgrounds to see what kind of shenanigans we could get into. After checking out the scene, looking for good deals, and talking to some good friends, we found ourselves at the Appomattox River Co. booth where Natalie "tested" some of the goods.
Checking out the Jackson Coosa
Hangin' out on Chad Hoover's WS Ride135
I can't wait to get a rod in those hands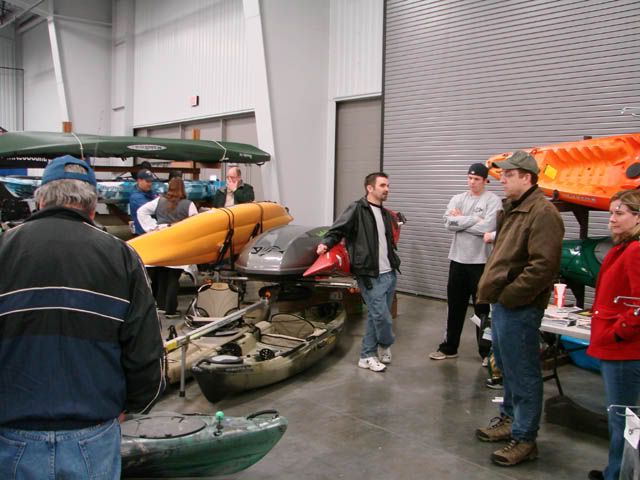 Luther Cifers, maker of the

Yak Attack

products, hanging out in the crowd.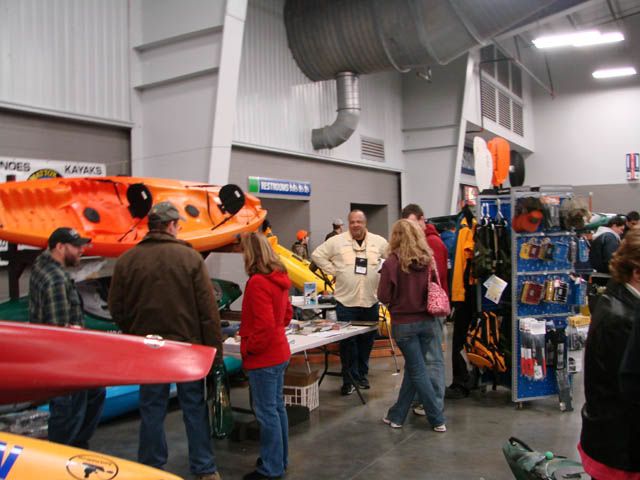 Malibu Kayak prostaff member, Wayne Bradby, helping to answer questions.
Cory Routh, William Ragulsky, and Mark Lozier taking a break in front of the

Ruthless

Booth
It was nice to shoot the breeze with fellow fishermen. Before I went there, I expressed my excitement and my wife said it's like I'm going to "mecca" to be with "my people". I laughed, shrugged my shoulders and said "yeah, I can't help it." They had seminars, lots of vendors, free giveaways, raffles, and even a trout pond where people can try their luck and keep what they catch. Kevin was there touting his DVDs and my favorite local tackle shop GreenTop had some killer deals. They had $15 Sebile magic swimmers on sale for $7 so I had to pick some up. I'll let you know how they do. I've heard great things though.
When I got home, I found a package waiting for me. I had a good idea what it was and upon tearing it open, my hunch was confirmed. It was my second place winnings from the smallest fish photo contest.