I took my first paddle strokes of the day around 8:30 am. The light drizzly mist rippled the flat black water and for a Saturday morning in February there was hardly any boat traffic at the popular hot spots. With the air temperature in the mid to high 40s and barely any wind, I didn't mind the damp atmosphere. At first.
The initial spot I decided to fish didn't produce. There were 4 or 5 boats around me and nobody was catching anything. Even the guys using bait weren't getting any action. I was relentlessly casting MirrOlures when someone called my name. It was Chong Chae who recognized my beat up kayak. This guy is a character. Always smiling, joking, laughing... I've known him since high school and my brother and I used to go to his father's
TaeKwonDo
classes. Chong was scary good...
This isn't Chong, but this is the move he used to do to people.
Nuts, huh?
Anyway, I digress. He's also an excellent fisherman. We talked for a bit and I found out the bite was on earlier. He had 3 nice ones up to 25", but nothing was happening now. We talked about tautog fishing for a bit since we both have an affinity for them, then I decided to leave and try another place.
On my way over to another "hot" spot, I spied this...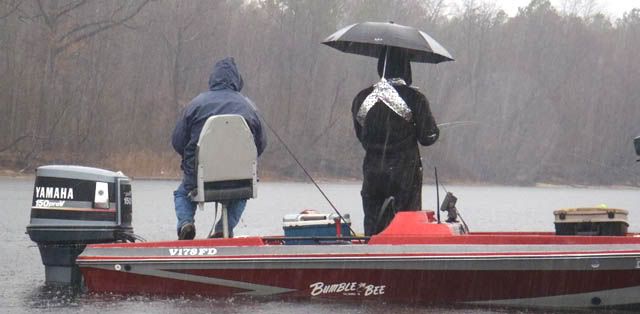 After a few chuckles, I got to the spot, switched to jigging soft plastics, and quickly picked up several small specks. I had one pull drag and I thought it was going to be a decent trout, but ended up being...
15 minutes later, the bite shut off, the wind picked up, and the drizzle turned into a downpour. That wind instantly made things feel dramatically colder, especially with the rain dripping off my rain jacket hood and getting blown into my face. After a while, it tapered off, but I still couldn't find a bite and my frigid fingers became incapable of tying knots. I went back to the first spot to see if things turned on but when I got there I only found one boat left.
I kept hope and incessantly threw my lures as the rain and wind pestered me. The monotony of casting and retrieving the lure was finally broken with a drag screaming run. It was the fastest I had seen and heard the drag rip from that tiny reel. Granted, I have ultra light gear, but still, this was definitely a really nice fish. It lasted all of 2 or 3 seconds. If that was a speckled trout, which I like to believe it was, it was the biggest I had ever hooked. So after the cursing and swearing, I continued casting and got a few bumps, a few more missed/dropped fish but finally landed a decent 21" speck.
Shortly there after, Justin Mayer met up with me. And after a few more highly suspect bumps, the bite was gone. I left soon after. I'm not sure how Justin ended up doing, but the fishing was pretty tough today.