I

got lucky

.
I was expecting to have to work with my dad at his shop while my mom got in on some quality time with her granddaughter. But my dad got it covered so he told me to just go fishing. Bingo. Bango. Weather looked good and the tides were alright so I launched at one of my favorite summer time spots, the
CBBT
. I knew it was going to be close to 100 degrees if not over, so I packed a soft sided cooler with five frozen 1-liter bottles of water and lots of sunblock. In hopes of trying to stay cool during the long paddle out, I stayed in the shadow of the bridge. It definitely helps to not be directly in the sun.
My first stop of the day brought in several flounder with the two biggest going...
and
The 21.5"er was lazy and didn't put up much of a fight. I knew I wanted to keep him so I opened the rod pod and as I was grabbing the leader, the flounder went nuts. I slid his body over the gunwale, got him in the rodpod and for about 10 seconds straight it thrashed, banged around and threw up minnows all over the inside of my yak. Flounder are notorious for going ape-shit once landed and I've lost my share so I was glad I had the rodpod for this one. On a side note, if you get one of these while leadering a fish...
... make sure you use the other hand to squeeze the lemon while cooking the fish. Not fun.
Anyway, back to fishing... I was using a 1/2 oz jighead and 5" crazylegs gulp jerkshad in white/chartreuse.
TKAA
member Scott J. was out there, too, wearing the flounder out on live bait.
After a while, I decided to switch rigs and bust out the fiddlers. My first drop down...


Mr. Tough Guy Tautog, even for a 16"er.
The very next drop in the same spot produced a single distinct thump and a heavy weight on the line. I slammed the hookset hard and the ensuing mayhem had me thinking it was the citation tog I've been wanting (for those of you who have been follow along for a while, can you tell I want one really bad?) A skiff with three guys on it, that happened to be near by, started hootin' and hollerin', when they saw me put a nerve-racking bend in the rod. After a while, I saw the stripes so I knew it wasn't
the tog
. But who can be upset after a fight like that?
24.5" Release citation Sheepie
I tell you what I did get upset about... bad fishing etiquette. While I was taking the above picture, I drifted off just a little (no anchor) and the skiff with the three guys on it scooted right into my spot. I saw a small opening for me to squeeze my yak in, so I got over there, asked if they have had any luck, and dropped my line right next to theirs. They started small talk and mentioned they had been sheepshead fishing all day and hadn't caught a single one. They asked what I was using for bait, and me being the polite guy that I am, said "
fiddlers
". A minute later, I get a hard thump and a heavy weight on my line, again. It's that split second that you know, "
This hookset is going to be awesome
".
Wham!
It's on. Bowed up and tearing drag, I look up at the guys with their jaws dropped open. I smile, give a little "
woo hoo!
" and enjoy the signature sheepie fight...
25.5" Release citation Sheepie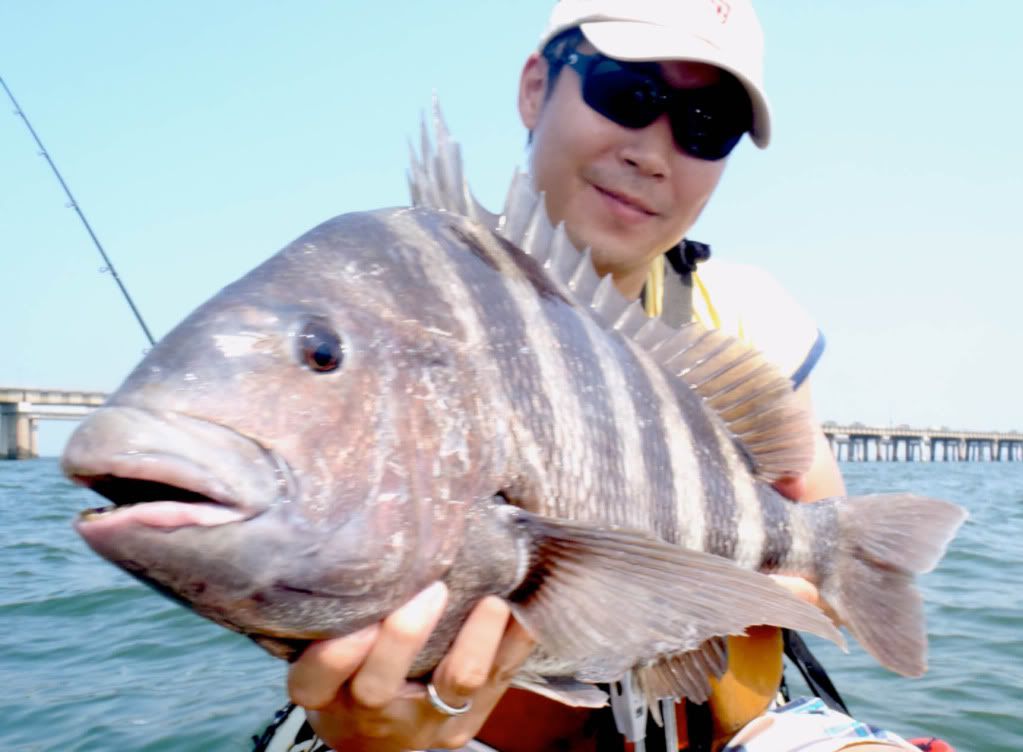 "In your face!"
I get back to my spot, low and behold, the douche-bags have now positioned their skiff so I can't squeeze in anymore. I decided not to get upset and fished the next set of pilings over. I was thinking of switching over to spadefish soon anyway, but wanted to try for one more. About 3 or 4 minutes later, I was about to pull my line in when once again, I felt that familiar thump. Immediately after setting the hook, I yelled out "
There he is!
" just to make sure the skiff knew I was a hooked up,
again
. It finally got to the youngest of the three. He was just disgusted. As he watched me fight the fish he yelled "
What the fuck man! Now that's just not fair! God damn it! You gonna make me go out and buy one a dem damn kayaks...
" I was trying really hard not to burst out into laughter, just smiling and nodding my head.
Real pretty 23"er with all it's fins out. Love it.
I wished the guys good luck and moved on to the spades. I switched rigs, opened up some clams and immediately started getting bites. The thing is, their bites are so damn fast. Eventually, I finally got one to hook up, almost losing my rod in the process (wet hands with clam juice on them). I saw the flash of it's bright side just before it came off. Frustration set in soon after when the same thing happened to me 4 or 5 times. I would get the hook up, have an intense 4 or 5 seconds with drag ripping chaos, then it would come off. To make things worse, the current was picking up, which meant I wouldn't be able to maintain the one arm paddle for much longer. But I really wanted to beat my 12" personal best, so I kept at it and finally got one to stick. It didn't fight as hard as the others I had hooked earlier, but I was glad to finally land one.


Toughest 12" fish ever.
It only tied my personal best, so I went back to try again. Unfortunately, the current got even stronger and the fish had disappeared. I decided to take a break and anchored up next to the island, under the bridge to stay in the shade. As I was eating a snack I realized I caught 4 species of fish that day (not including the trashfish like oystertoads and baby bluefish that I failed to mention earlier). I thought to myself "
CBBT Grand slam, baby! Yeah!
" It had been a good day and I was contemplating about heading back in after my break when I noticed a skiff with a pair of flounder fisherman on it looking up at the sky.
I thought "
what the heck are they looking at
?"
That's when it happened...