I
n the saltwater kayak fishing community of Virginia, no other kayak angler has achieved what Kayak Kevin has.
Many avid non-kayak anglers find it very difficult to do, but he reached "expert angler" status in the
Virginia Saltwater Tournament
, not only once, but twice (2006 & 2007). Catching 6 citations (trophies) of different species in one year all from a kayak is no easy feat. But on Tuesday, July 5th, he brought yet another goal into realization and I was privileged and honored to be a part of it.
Kevin
was already out under the CBBT when I pulled up to Chic's Beach, so I unloaded and launched as fast as I could. I'll be honest, having become friends with Kevin doesn't make it any less exciting to fish with the guy. I believe I'm a pretty driven person and I've accomplished a good bit, but what this guy has done and is still doing is truly inspiring. He had been talking to me for a while about needing one more citation fish... and as we planned this trip, we knew... the recent reports, the weather, the tides, everything was just right.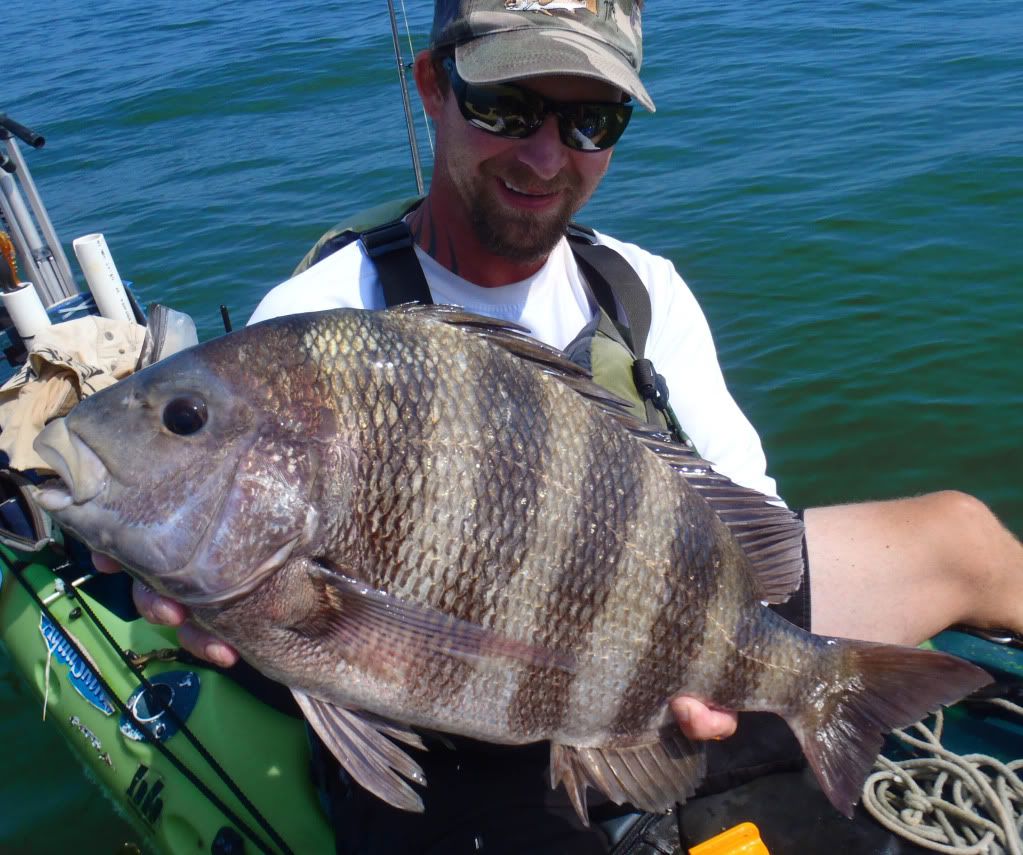 Kayak Kevin's 24" Release Citation Sheepshead
First fish of the day was a gorgeous 24" sheepshead and the pressure was off. There was a sigh of relief and a buzz of excitement as he held up his citation fish. That fish now made him
"Virginia Master Saltwater Angler"
. It takes 25 citations in a minimum of 5 different species (a maximum of 1 citation per species per year allowed) over an unlimited period of time to achieve this. Throw in the fact that he did it all in a kayak and it's really quite an amazing accomplishment. Congrats, my friend.
The first fiddler I put in the water got eaten just a few minutes later. I set the hook and my rod violently doubled over as Mister Badass Master Angler chuckled and watched me struggle to stop the fish. It was my first sheepie hook up of the year and I was quickly reminded of how strong they were when it pulled lots of line off the super tight drag. However, moments later my heart sank as I lifted up a bent hook. It wasn't just a little bent. It was
wide open
... and my imagination ran wild about the size of that fish. I kept hope while I tried other spots and when I got to one of my favorite pilings ... the fight was on again. And this time, I kept him on the hook.
25" Release Citation Sheepshead.
Feeling good about our sheepshead catches, we moved on to try spadefish. Using clam as bait, Kevin ended up with one around 15" and I dropped one that looked about 13" right at the boat. That little spade darn near yanked the rod right out of my hand!
Soon after, the current really got going and the wind started picking up so we decided to take shelter behind the island and see if big ugly was around. And as if one citation species for the day wasn't enough, Kevin rocked another one...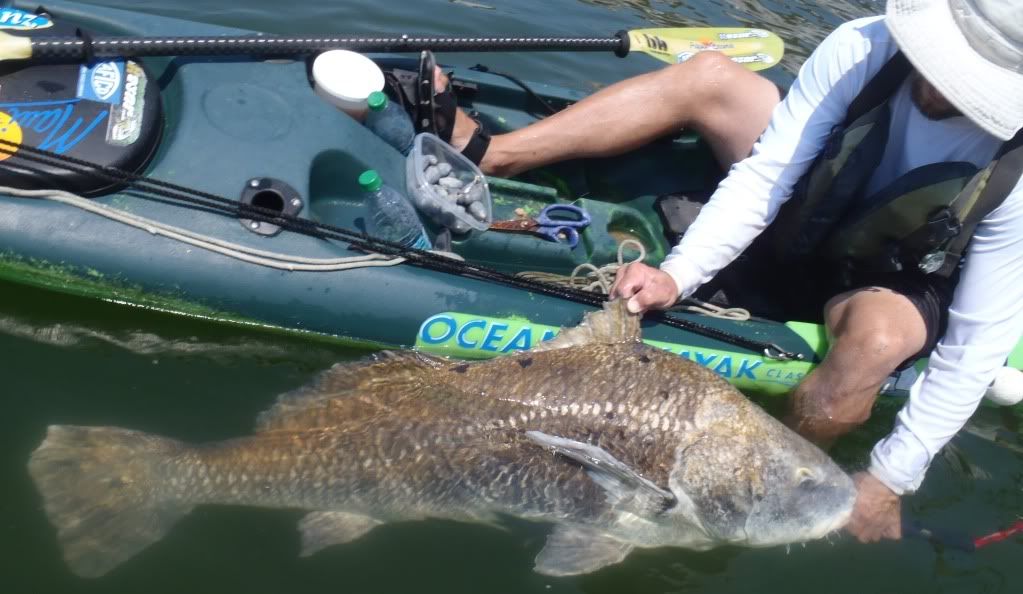 48" Release Citation Black Drum
He was using artificials and I tried with clam, with no luck. They were very skittish but fun to watch. It's really quite amazing to float right over these 4 foot plus behemoths. We even saw a few with their tails out of the water as they buried their heads looking for grub. I'll try again for them next time.
As the current started to fade, we tried for spades again, with little success. I switched over to fiddlers and on my first drop I felt a single hard thump. I set the hook hard and the butt of my rod quickly dug in under my arm. It felt
good
... and I thought to myself "if this is a tog, it might be
the one
". I've been wanting to reach that magic 23" citation mark for some time. When I got it in the boat, the excitement flooded my mind. It was close. I laid it on the measuring board... "c'mon... twenty three inches...."
Not quite... but still happy.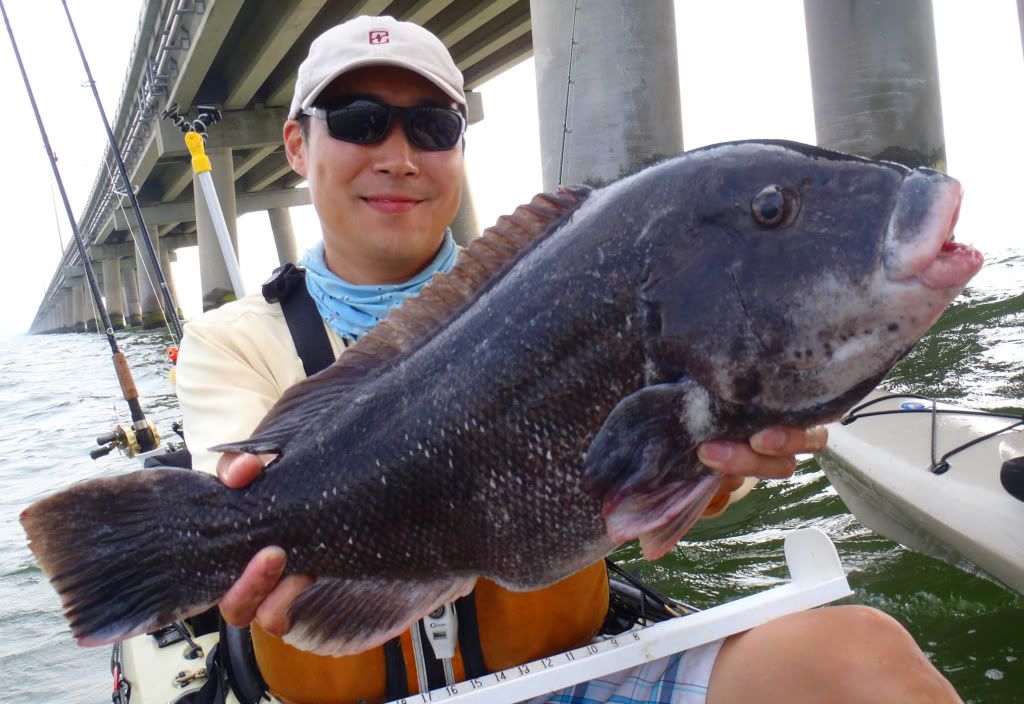 New personal best 22.25" Tautog
Shortly after, with the wind picking up and heavy clouds on the horizon, we called it a day. A great day, in fact. The fishing was excellent and Kevin once again scratches his name in the record books.
His near unparalleled dedication to the sport matches his mantra well...
"You only get out of life, what you get out and do."
CONGRATS!!!
Check out Kevin's website for more info and pics.
And for those that were wondering, yes, I did go for stripers at the HRBT later that evening.... caught just a few small stripers.