Skunked.
My first two bull drum trips to the Eastern Shore both ended without a bite, leaving my personal best redfish at 32". And as with most things left to brew in the mind, the need to meet that goal from last year has been growing strong. So a
fter the highly anticipated first big red reports of the year came in, I called a good fishing buddy and said...
"Dude, this year, I am going to catch a Bull Red".
I finally got out there on Sunday, but only after a cold front moved through the day before. It took us a while, but after some help from Ric Burnley, we got into some nice stripers.
Billy Ragulsky hooked up and going for a rid
e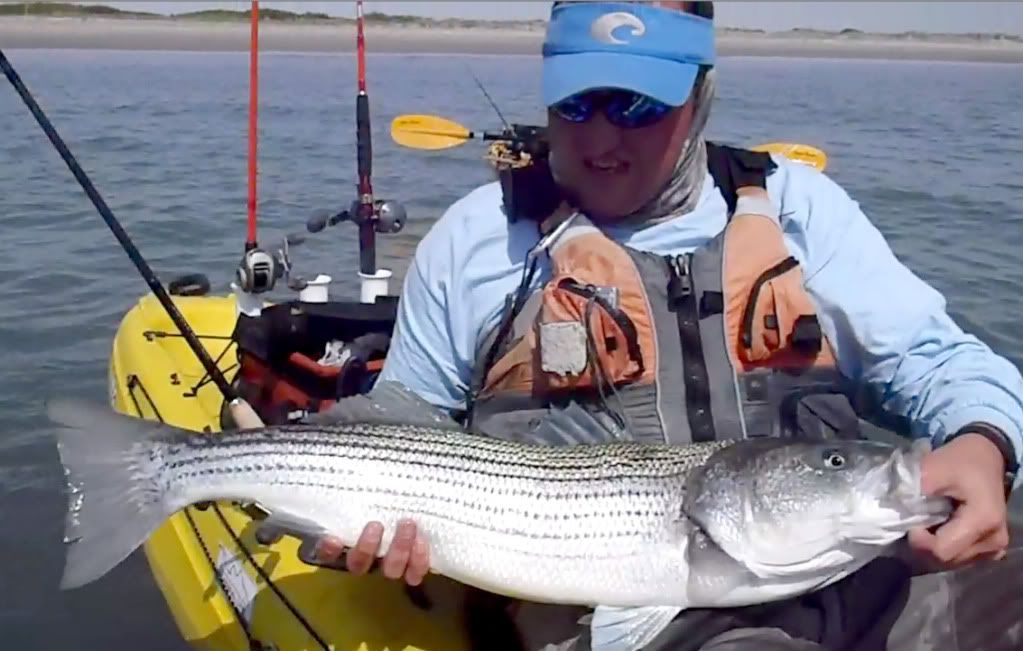 34" Flats Striper
We wandered the area for hours, finding them, then losing them, over and over again.
Aside from Billy and Ric, the rest of us got no love from the stripers. Bumps. But no hookups. We changed our target to the Big Reds and anchored up around the shoals. By this time, the wind had picked up and clouds rolled over our spot. We threw out our crabs into the white water, but had no takers. Frustration set in and eventually, we got back to the flats. It was hard to see anything in the shallow water with the wind up and sun covered. It had been an exhausting day (going to the HRBT the night before until 2am doesn't help). Nearing the point of defeat, I decided to paddle over to Justin to check out what he was up to before I took off.
Keeping an eye out on the way, I thought I saw a brownish orange shape, about 5 feet from me, for just a split second. Without looking away from the area, I stopped the kayak, picked up the rod and pitched my 6" paddletail. I cranked and as the lure reached the kayak I lifted it out of the water just in time to see a massive head then a big cloud of sand. DAMN! I quickly threw it again and before I could finish my first crank, the rod nearly got pulled out of my hand. The initial run was everything I hoped for. After the drag finished screaming, the kayak was in full sleigh mode, going against the wind and the current. Simply amazing. And when I thought it might be done, even with the drag set tight, it went on another spectacular line peeling run. After a while, I got it close and it started making my kayak doing 360s, just spinning me around. Then finally, it stayed on top. I grabbed it's lower jaw, leg lifted it in, and nearly creamed myself.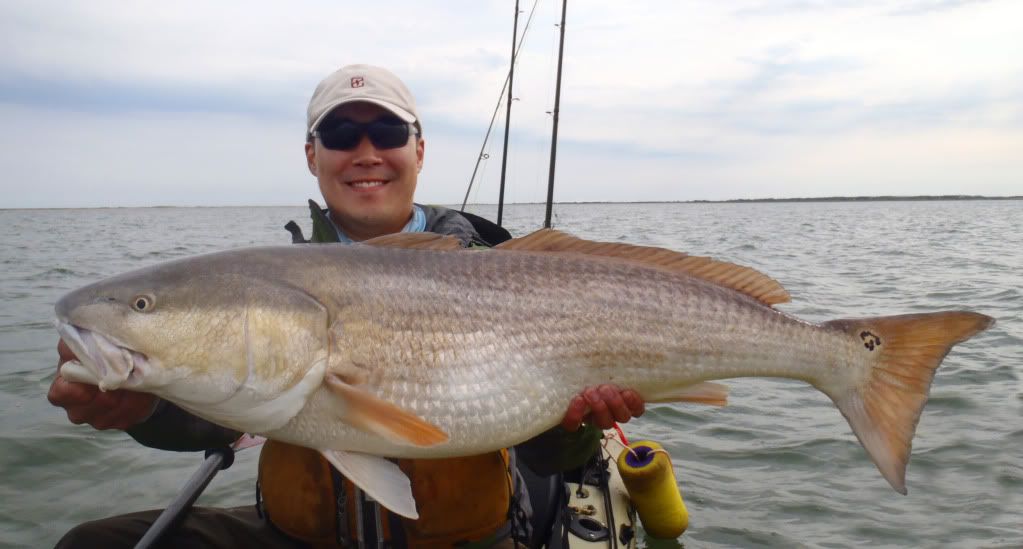 Fat 40" Bull Red.
Photo credit William Ragulsky.
Billy caught up to me and helped with pictures. Then quickly, we resumed the search for the school. It was getting harder to see anything in the water with the wind getting stronger. I noticed a few sand bombs went off near me where the drum left in a hurry. I threw my paddletail some more, but it was futile.
I spent about 12 hours on the water. Paddled around 20 miles. But it was worth it. I learned a lot about the area and that one fight will have me going back as soon as I can. I can't wait.