On Sunday Justin Mayer, Mark Rioux, and I went searching the vast openness of the Eastern Shore Fisherman's Island area for the big reds. After getting some tips from a
great friend
, we were lucky to find them. It was A LOT of paddling, but it was worth it.
We just about ran over the first school we found. I thought I saw some shapes, so I stood up and plain as day, there they were. As I yelled and pointed "Reds! Right there!", Justin realized there were several right under his yak. I tossed my swim bait, cranked, saw a big red turn and hit it 15 feet in front me, but no hook up. We frantically searched for the school again, but lost them without anyone catching one.
We paddle around for hours with our eyes playing tricks on us. Any inkling of a shape or color had me thinking it was a red. Eventually, Justin found a school and hooked up first. I paddled up and started shooting video as his sleigh ride was in full throttle. I looked below me and saw some MASSIVE fish. I spooked several, one of which had to have been pushing 50". So I put the camera down and tossed my swimbait. By the second cast I was hooked up and lovin' it. Grinnin' from ear to ear, it was pure joy...
Hooked Up!
Justin's 45"er caught on free line crab
New personal best Red Drum at 45"
We also met up with Terry Reece and Dave Narr and spread out our formation in hopes of finding the school again. We would find them, then lose them, but not before Justin hooked into a nice 46.75"er.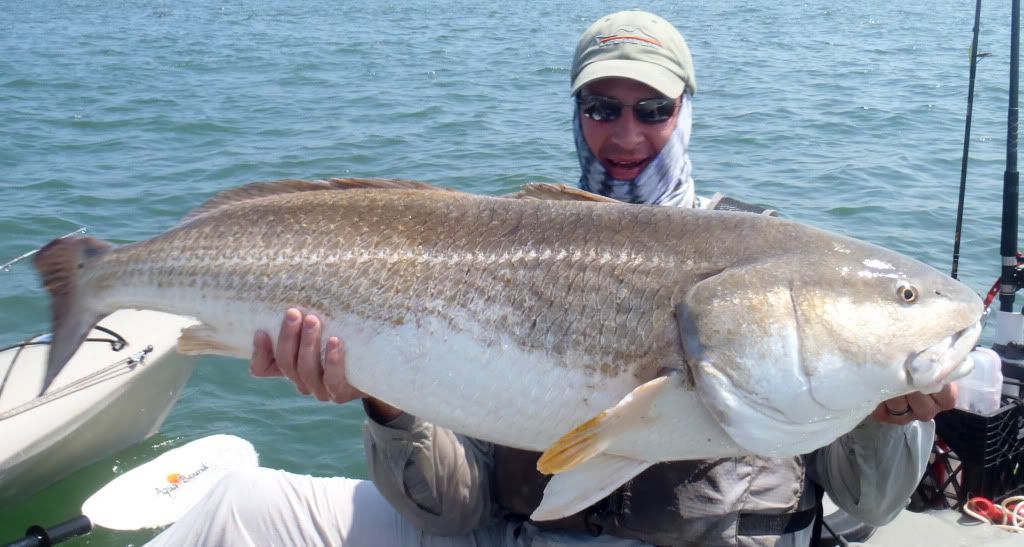 Congrats to Justin on his Citation Red Drum!
We split up and searched some more, but couldn't find them again. It's my understanding that Dave found another school later on and caught two as well.
I'm not sure if I'll be getting back to the Eastern Shore any time soon. As fun as it is, I know the Cobia bite is on fire down in Hatteras and I've been wanting to get on one of those for quite some time now. I missed out on the epic run last year, and I really don't want to regret not going this year. So time to switch gears...